Karl Rove A True Believer In Obama: Calls Afterbirthers "Nutty" While Perry and Trump Restate Doubts
October 25th, 2011
Posted by:
Barry Secrest
Published on October 25th, 2011 @ 09:59:28 am , using 448 words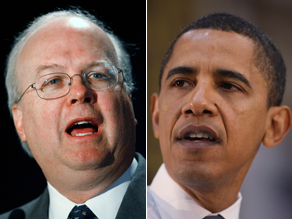 Huffington Post
Donald Trump, who made headlines months ago by questioning the authenticity of President Obama's birth certificate, is back in the spotlight with more skepticism about the document.
Trump and the birth certificate issue were brought up again in Parade Magazine's recent interview with GOP presidential candidate Rick Perry. Below is the key excerpt from the interview:
Governor, do you believe that President Barack Obama was born in the United States? I have no reason to think otherwise.
That's not a definitive, "Yes, I believe he"--
Well, I don't have a definitive answer, because he's never seen my birth certificate.
But you've seen his.
I don't know. Have I?
You don't believe what's been released?
I don't know. I had dinner with Donald Trump the other night.
And?
That came up.
And he said?
He doesn't think it's real.
And you said?
I don't have any idea. It doesn't matter. He's the President of the United States. He's elected. It's a distractive issue.
National Review pressed Michael Cohen, a senior Trump adviser, about Perry's comments. Cohen said that "serious questions remain" about Obama's birth certificate. Cohen provided similar statements to Talking Points Memo.
Trump released his own statement about the birth certificate, saying, "Is it authentic? - I don't know - but I am proud of the fact that I was able to get him to do something that nobody else was able to get him to do - release the 'certificate.'"
Trump went on to say that "more important issues need to take center stage; such as our failing economy, unemployment and our unsustainable debt."
Back in April, when the President released his "long form" birth certificate, Trump stated that he was "proud" of himself because he "accomplished something that no one else has been able to accomplish."
On Monday, Republican strategist Karl Rove slammed Perry's interview comments, saying, "You associate yourself with a nutty view like that, and you damage yourself." Rove went further, explaining that Perry's birth certificate skepticism could "maginalize" him with voters.
Related News On Huffington Post:

Donald Trump On Muammar Gaddafi's Death: 'Big Deal' [WATCH]
Hearing the news of Muammar Gaddafi's death on Thursday, many American leaders released statements on what the end of the Libyan dictator's run meant for...

Donald Trump Blasts Obama Over Occupy Wall Street, Works With Bachmann On Phone-In Town Hall
Real estate mogul Donald Trump had harsh words for the Obama administration over the Occupy Wall Street protests, saying the president has let the escalating...

Donald Trump Says Obama Birth Certificate Fake: Report [UPDATED]
This post has been updated. Donald Trump is inserting himself back into the world of politics, declaring that the White House produced inauthentic documentation of...
Permalink