Glenn Beck Accuses Tea Party Members Of "Being Racist" For Supporting Newt Gingrich: Prefers Romney
December 11th, 2011
Posted by:
Barry Secrest
Published on December 11th, 2011 @ 11:17:32 pm , using 539 words
Conservative Refocus
By Barry Secrest
Say it ain't so Glenn! How can you ignore the fact that a preponderance of Romney's major positions have mirrored Obama's in the past ten years?
Can you actually say the same for Gingrich? I feel a more in-depth article "coming on" about this....but here is what Beck says in preference to Romney:
"He makes Mitt Romney look like a small government guy." Beck explained that he's not the biggest Romney fan, but he would be able to hold his nose and vote for him, so to speak.
Then, you Glenn, of all people, actually play the Liberal race card against the Tea Party by saying that their support of Newt versus Obama has to be "racist in nature" after seeing an almost rabid support of Herman Cain literally pummelled into the ground by the mainstream media? Oh!  While ignoring Obama's similiar "swept under the rug" problems? Here are Beck's words:
"If you have a big government progressive, or a big government progressive in Obama… ask yourself this, Tea Party: is it about Obama's race? Because that's what it appears to be to me. If you're against him but you're for this guy, it must be about race. I mean, what else is it? It's the policies that matter."
We Conservatives, now, almost expect this sort of treatment from the Axis Press.  But from you, Glenn Beck? The "race-card city cryer of celebridom?"
What in the hell have you been drinking, Glenn Beck? I do hope it's only Kool-Aid this time around. I can recall your Restoring Honor rally, which inspired many a Tea Partier's tear at how "simply wonderful" it all was during the gathering.
But what in the world happened between then and now, Beck?
Hey, but look, we both love and respect ya', Glenn; however,  we True Conservatives are going to have to stick with another Icon, good ole'  Rush Limbaugh, on this one as well, my Libertarian friend.
Don't get me wrong, we for the most part, will vote for Romney as well, if he is the nominee, and yes, we know what Gingrich said on Meet The Press, which pretty much countered everything he had previously stated.
But to call Newt a Progressive who mirrors Obama?  That's just patently over the top-- in even my "center-left oriented" friend's views.  Yeah, I listen to em', but then blow them off mostly.  Maybe you're going for the Moderates and non-Tea Party supporters in an effort to "expand" your TV Shows reach, hell, I don't know.
But don't forget to "dance with the ones that brung ya," at least every so often, and Beck, you should never, ever, bite the hand that feeds you. Because those same people you are insulting are, essentially, the only ones who have been defending you --up to this point.
But you must be aware, Glenn, that while the thought totally escaped me, I will admit, there are others who think that your "Romney over Gingrich" preference is strictly a "Mormon Brotherhood" thing.
Did you know that, my friend?  Surely you , of all people, would not pair up with a candidate on a purely religious "El Talibanic" basis....but you leave yourself wide open for that particular charge.
I'm just saying....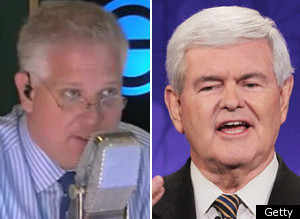 Permalink