A Landslide of Epic Proportions for Romney: Recent Poll Shows Catastrophic Degradation for Obama
May 12th, 2012
Posted by:
Barry Secrest
Published on May 12th, 2012 @ 11:14:26 am , using 286 words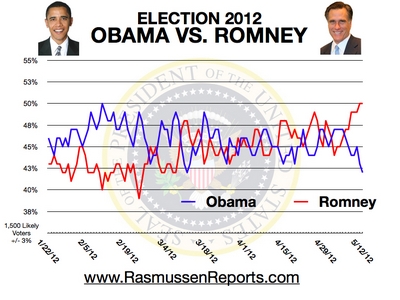 The Rasmussen Reports daily Presidential Tracking Poll for Saturday shows Mitt Romney earning 50% of the vote and President Obama attracting 42% support.
Rasmussen Reports
Conservative Refocus  Notes
This is tracking almost prophetically with a post written months ago in which we can see no way in which Obama will get above 42% of the electoral vote.
The President is running a campaign tailored to lose in cutting out a wide swath of middle-class America, and that was before his attack on the church.
The Conventional wisdom states that this will be a tight race. However, the instinctual impression garnering all the minutiae states that Romney will win this contest going away.
We'll see who's right....but you won't see the media reporting the headline of this article, as with most of the other headlines at Conservative Refocus.
Rephrasing the argument, going in, tends to change the perception of the entire story for the reader.
This idea is one of the main reasons for the impetus of this website.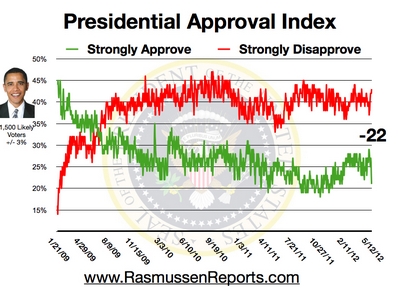 A president's Job Approval rating is one of the best indicators for assessing his chances of reelection. Typically, the president's Job Approval rating on Election Day will be close to the share of the vote he receives. Currently, 44% of voters say they at least somewhat approve of the president's job performance. That's his lowest level of approval in two months.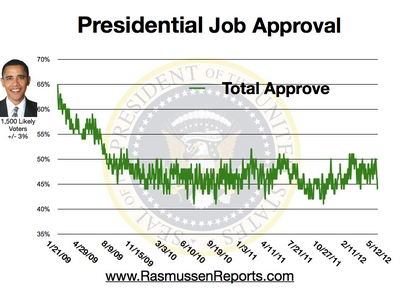 Intensity of support or opposition can have an impact on campaigns. Currently, 21% of the nation's voters Strongly Approve of the way that Obama is performing his role as president. Forty-three percent (43%) Strongly Disapprove, giving him a Presidential Approval Index rating of -22 (see trends).
That's the president's lowest Approval Index rating in six months, since December 3, 2011.
Permalink