Wolf Blitzer Falsely Claims Hawaiian Governor A Republican: Furious with Trump over Obama Birth Certificate:
May 29th, 2012
Posted by:
Barry Secrest
Published on May 29th, 2012 @ 08:05:43 pm , using 492 words
"Wolf Blitzer: The Governor of Hawaii is not a Democrat but rather a Republican"
(Say What?!)
Conservative Refocus
By Barry Secrest
In this CNN clip, we can see an almost panicked Wolf Blitzer continually remonstrate Donald Trump over the birther issue and how the Trumpster was completely wrong in his numerous assertions concerning Obama's fraudulent birth certificate.
However, what was most fascinating was how, during the CNN piece, Blitzer seemed as if he might suddenly burst into tears at any male menopausal moment, while Trump was having nothing of Blitzer's two--(2) (count them)--trademarked points, which spoke to why Trump was completely wrong.
So, what were the two points?
The first was that the state of Hawaii actually certified the birth certificate.  As Blitzer would continually repeat this point, CNN would comically float an image, NOT of Obama's fraudulent certificate, but rather the much ballyhooed "certificate of live birth,"  which is about as useless as chicken poop on a pump handle in most circles. But float the image, CNN did, all over the screen as if to repeatedly admonish everyone, "see, this is it, FROM NUMEROUS POSITIONS, now shut-up!" Apparently, if we see the image float around on our screens enough we' ll begin to believe in it, kind of like a really cool "Ghost Hunters" episode of a full body apparition seen from several different camera angles.
Which, come to think of it....
At any rate, it gets better, of course, because during the heat of the argument, Blitzer began harassing Trump because of the fact that Hawaii's Governor, Neil Abercrombie, certified the birth certificate as being authentic and Abercrombie is a "Republican," said Blitzer, and Blitzer, my friends is quite obviously wrong on this point.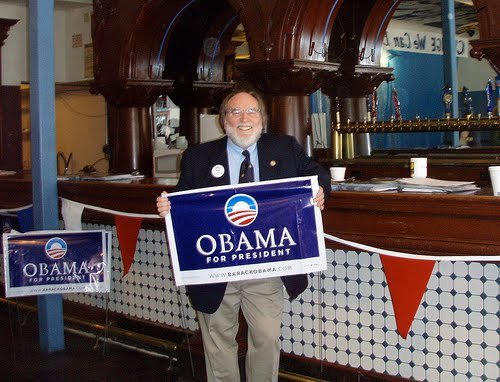 In fact, Neil Abercrombie, the Hawaiian Governor, is not only a hard-wired Liberal Democrat, but he is also a friend of the Obama family, even claiming to having been present at the time of Obama's birth in Hawaii. So, Blitzer, being the well-polished news anchor that he is, needs to stick to his teleprompter, it would seem.
But then there was point number two, in which Blitzer's most pressing proof was the fact that there were two ads announcing the Messiah's birth in two newspapers at the same time in Hawaii....so this is the most compelling evidence you guys have? Wasn't there a star as well in the east? All of this, even when we have numerous accounts of Obama and Michelle stating he was born in Kenya, or even a publishing masthead indicating Obama's Kenyan birth?
The nexus of the entire exchange was how forcefully Blitzer was arguing on behalf of the President, however, as if he were the defacto defender of the President and his storied birth certificate. That, in and of itself, is really all most people need to see in order to powerfully set them to wondering about Obama's true origins.
If it's so ridiculous, why does the Media keep forcefully pressing the argument?
Permalink