May 3rd, 2013
Posted by:
Barry Secrest
Published on May 3rd, 2013 @ 11:24:21 pm , using 392 words
The Washington Examiner
By Joel Gehrke
Former Rep. Barney Frank, D-Mass., responding to al-Qaeda's criticism of his sexual orientation in the latest issue of their magazine, compared the terrorist organization to the Tea Party and cracked that the two groups are "aligned" with each other against gay marriage.
CR Notes:
This, from the guy who is allied with the Occupy anarchists?
The Tea Party, to my knowledge, is not at all concerned about gay marriage. Marry anyone you want, just don't ask us to sanction it as a traditional marriage, pinhead.
"I wonder how the right wing in America feels about being aligned with al-Qaeda?" Frank said to Buzzfeed, adding that "there is an irony that the most active anti-gay [groups] are al-Qaeda and the American right-wing."
CR Notes:
Indeed? al-Qaeda is an Islamic extremist group predicated on Leftist totalitarian control and constantly defended by Left-Wing groups such as the Democrat Party, the Liberal media, and of course, the President.
That is the true irony, and where might Barney the pervert dinosaur fit into all of that, is the actual question at play.
The latest issue of Al-Qaeda's Inspire magazine spotlights "Barney Frank, Gay Congressman, Symbol of the American Dream" to argue that the United States is "a nation standing on no values."
"It sounded like what the Tea Party said when I got married," Frank replied.
CR Notes:
Thou do'st protest to much, quite frankly, Mr. Frank.
Neither I, nor many of my erstwhile bretheren have even thought about you or your churlish singular wit since you got run out of your congressional district. I know that's painful, but we've all been dealing with the banking meltdown that you helped cause.
Plus, we can't all run lucrative male prostitution rings out of our garages, you know. I mean, where we would park our pick-up trucks?
But, remember what you said in early 2008, as the head of the congressional banking committee? "Fannie May and Freddie Mac are healthy, nothing to worry about," right.....we saw what that got us.....double-pinhead
Frank's comments come about a week after an NPR analyst suggested that "anti-government, right-wing" terrorists attacked the Boston Marathon.
More from the WE
March 26th, 2013
Posted by:
Barry Secrest
Published on March 26th, 2013 @ 05:41:31 pm , using 3039 words
Conservative Refocus
By Barry Secrest
I know, I know, how dare I question the Conservative's Conservative Charles Krauthammer?
He, the winnowed champion of the more or less conservative plight of whom I was delightedly first reading while cruising about the Atlantic Ocean aboard a US Navy destroyer, only a scant couple of years after graduating high school, still wet behind the ears, as they say.
But it's not like this would be the first time.
Krauthammer, aside from Limbaugh and the mostly culpable antics of Barack Obama and Paul Krugman were perhaps, something of a semi-inspirational catalyst in getting me involved in doing precisely what I am doing right now, on my keyboard. Well, there was that one other rather crazy thing, but we won't go into that.
Yet here I sit, enigmatically compelled to spend another beautiful, late afternoon, weekend day musing in front of my esteemed ViewSonic flat panel. While others are enjoying the first glimmerings of Spring, some playing golf, others gardening , some few other younglings, maybe even, getting a first-time shot at flying their pre-emergent beginner's level surveillance drone--bathed in the aroma of just-out-of-the-box neoprene and glowfuel --and here I perch meaningfully morphing into a semi-active flat-panel potato.
So, why do I dare call the inimitable Sir Charles out, especially when we're supposed to be one big, happy, Conservative Fleet? Hey, he started it, by nothing less than a series of blatant attacks on Conservatives, to include Sen. Rand Paul and Sen. Ted Cruz, among a host of others in recent history.
Here, Krauthammer acidly attacks Rand Paul:
Below, from the Daily Caller, is Krauthammer's attack on Cruz:
"Well look, I am grateful he raised this issue, because I think we have reached a point in the country where we are sick and tired of the way the administration is going around blowing people to kingdom come while sitting in their living rooms because of a suspicion — I'm talking about Americans," Krauthammer said. "Just last week, my neighbor was blown away during a chicken barbecue by his pool."
So, all of this invariably involves Krauthammer's meandering off on one of his brief but consistent sojourns into 'The Land of the Elections Lost' wing of the Republican Party. You see, while Krauthammer enjoys the deification of most who reside on the Right-Wing of American politics, and even not a few on the Left, he also spends much of his time sautéed within the languorous vicissitudes of the inner-Beltway, leaving at least some modicum of his collective faculties emulsifyingly diminished from the other real world in which most of us reside.
To that end, it was his recent opinion piece at the Washington Post, titled Codify the Drone War, which set my comparatively raw conservative angst on edge.
Krauthammer begins by stating the following, in his veiled piece:
In choice of both topic and foil, Rand Paul's now legendary Senate filibuster was a stroke of political genius. The topic was, ostensibly, very narrow: Does the president have the constitutional authority to put a drone-launched Hellfire missile through your kitchen — you, a good citizen of Topeka to whom POTUS might have taken a dislike — while you're cooking up a pot roast?

The constituency of those who could not give this question a straight answer is exceedingly small. Unfortunately, among them is Attorney General Eric Holder. Enter the foil. He told a Senate hearing that such an execution would not be "appropriate."
So, what's wrong with these ideas? Nothing, Sen. Rand Paul, not unlike his Father, does exhibit undeniable traits of political genius, if not courage, something that the Moderates within the Party of we're-now-not-really-sure can only marvel at, to be certain.
But Krauthammer's use of the word genius shades into something just a bit more insidious as his wordplay stretches out. To say that Eric Holder told the Senate hearing that (drone) "executions would not be appropriate," leaves out several facts more than worthy of note.
The first worthy fact being that the direct questioner of the Attorney General, before Sen. Paul's filibuster, was none other than highly Conservative, emerging leader, Sen. Ted Cruz. This, despite not a few other Neo-Republicans effectively pish-poshing Cruz's questionings, both in private and later in public, subsuming Charles Krauthammer, as it turns out. Cruz, it should be side-noted, increasingly presents much like a relentless Conservative Jedi, able to intimidate even wizened old Senators such as veteran Liberal Senator Diane Feinstein., a thing not so easily accomplished, truth be told.
The second fact, to continue, being that Holder was clearly evading the drone questions, both verbal and written, domestic and foreign, with every fabric of his non-littoral being, and for quite some time prior to all of this. A thing that Krauthammer also chooses to omit in his column, despite an oft exhibited better judgment to the contrary.
Now, why do you suppose that is?
However, it's what follows that confounds, with regard to Krauthammer, do read on:
Appropriate being a bureaucratic word meaning nothing, Holder's answer was a PR disaster. The correct response, of course, is: Absent an active civil war on U.S. soil (of the kind not seen in 150 years) or a jihadist invasion from Saskatchewan led by the Topeka pot roaster, the answer is no.

The hypothetical being inconceivable, Paul's performance was both theatrically brilliant and substantively irrelevant. As for the principle at stake, Holder's opinion carries no weight in any case. He is hardly a great attorney general whose words will ring through history. Nor would anything any attorney general says be binding on the next president, or for that matter on any Congress or court.
Hypothetically inconceivable? Substantively irrelevant, Charles?
Indeed, successfully pinning the Obama Regime on their intransigent, non-vector, approach with regard to assassinating American citizens on US soil can hardly be considered irrelevant, in light of all that we've seen over the past four years. Further, Krauthammer's words hypothetically inconceivable belie the historical facts in earnest, especially when we consider that only five years before Krauthammer's US birth in 1950 to migrant European Jewish parents, Hitler's death camps were being discovered dotting the landscape all over northern Europe.
Were not the Jewish Extermination Camps also hypothetically inconceivable to anyone who learned of their existence Mr. Krauthammer? Or, might the point made here also be considered substantively irrelevant as well? Perhaps Krauthammer should have majored more in history and less in psychiatry in order to understand the repetitive natures of human history, as he seems to be exhibiting the it can't happen here mentality which many other Americans exhibit.
The simple fact is that Democide in the 20th century became the number one cause of unnatural deaths for the first time in recorded history, to the tune of over 200 million people, and that is certainly not irrelevant, but rather goes to the heart of Sen. Paul Rand's filibuster.
But, Krauthammer's progression, rather than methodically smoothing the angle of his blade becomes even more razor-like:
The vexing and pressing issue is the use of drones abroad. The filibuster pretended not to be about that. Which is testimony to Paul's political adroitness. It was not until two days later that he showed his hand, writing in The Post, "No American should be killed by a drone without first being charged with a crime." Note the absence of the restrictive clause: "on American soil."
No, Charles, you, Sir, are just as wrong here as you were about the Fiscal Cliff, The Tea Party in 2010, and the Debt limit in 2011, although you did get the Sequester cuts right in 2012, unlike many within the mushy quasi-moderated class. Rand Paul was simply establishing,within writ, the fact that an American going on vacation abroad, should not be qualified for extermination simply because he or she is abroad and no longer immediately subject to current group-think ethos within the confines of the inner beltway and outside of the US Constitution. Egad, Krauthammer! Are you not familiar with any of the more Conservative outlets within the media?
Apparently not, Krauthammer continues:
Now we're talking about a larger, more controversial issue: the killing-by-drone in Yemen of al-Qaeda operative Anwar al-Awlaki. Outside American soil, the Constitution does not rule, no matter how much Paul would like it to. Yet Paul's unease applies to non-American drone targets as well. His quarrel is with the very notion of the war on terror, though he is normally too smart to say that openly and unequivocally. Unlike his father, who implied that 9/11 was payback for our sins, Paul the Younger more gingerly expresses general skepticism about not just the efficacy but the legality of the entire war.
So then, according to Krauthammer, just as the US Government sets up Guantanamo Bay as an offshore military facility operatively not subject to the US Constitution as befits prisoners, then any American citizen wrenched off of American soil, either voluntarily or otherwise, is thereby automatically subject to absolutely no protections whatsoever under the US Constitution?
I can see it even now, a massive investment in the cruise ship industry by Obama's US Government for the ostensible purposes of providing its dissenting citizens a well-needed, low-cost, vacation away from the American shore, and then some. Outside of the massive MRAP and Bullet purchases, don't be surprised when Obama starts buying non-military cruise ships for DHS conveyance.
A US citizen's rights as a US citizen, as treated by the US Constitution, do not end at the shore's hallowed edge, Mr. Krauthammer, just read the US tax code with regard to citizens living abroad if you be in doubt. Please show us where they do end as well, if you be so kind, and if you remain in disagreement on this point. Now maybe it is different when a citizen ostensibly declares war on the US. However, this particular point has not been in evidence by the White House thus far, which seems to artfully specialize in warping US law to their own ends.
But what Krauthammer fails to mention, in his frequently veiled and sometimes outright attacks on full-blooded Conservative elected officials if not others, are the facts surrounding the drone worries, which the US mainstream media has largely ignored. It was a document revealed in early 2009, which was written by the US Department of Homeland Security, which proved more than enough to raise alarms as to who, exactly, might be considered a threat to US Security aka terrorists.
The report, titled below, is provided with a link:
Rightwing Extremism: Current Economic and Political Climate Fueling Resurgence in Radicalization and Recruitment
The Federal Government document specifically indicated "Right-Wing Extremists" and "those opposed to abortion and illegal immigration" as possible terrorist subjects. In fact, before Secretary Napolitano was forced to redact the report, which identified approximately 60% of the entire US Civil Society as possible terrorists, Napolitano repeatedly defended the report as being accurate.
So, this is at least in part, why uproar has been growing over exactly who the Obama Regime might consider as a threat to the US Government. Did, perhaps, Krauthammer completely forget about this damning document with regard to the domestic terrorist connection attached to death by drone?
The other side of this story speaks to the fact that this particular story which was re-ignited by a February white paper uncovered by NBC's Michael Isikoff, which was from the DOJ , and which did not seem to clearly speak to foreign threats in other lands, only, but rather on a global battleground basis. So, while Krauthammer may view an all-powerful centralized opposition government as his cuddly Teddy Bear du jour, truly critical thinkers, even on the Left-Wing side, are not always so trusting, and herein lies the rub.
Indeed and even for God's sake, listen to Liberal Extraordinaire Oliver Stone who describes both Obama and his government as being "scary" in this YouTube clip:
You know we're in big trouble as a country, when a Liberal Hollywood film maker has a more cautious stance on big government and its machinations, than a Mainstream Conservative opinionist, for heaven's sake.
Krauthammer, here, in his column, now retreats to much safer ground:
That skepticism is finding an audience as the war grinds into its 12th year, as our hapless attorney general vainly tries to define its terms and as the administration conducts a major drone war with defiant secrecy. Nor is this some minor adjunct to battle — an estimated 4,700 have been killed by drone.
And here again , as prefaced by Krauthammer, our President shows a strident streak of viciousness towards the paltry individual class while engendering a continually remarkable dispensation at catering to any sort of identifiable group, even if such group be an enemy to the state. Maybe it's just in the guy's blood, to pander to the groups or the masses, undistinguished, sans Conservatives, who knows? However, this singular mindset threads its way through the President's entire agenda, be it Domestic or Foreign.
Now why, exactly, might that be?
Moving on, Krauthammer correctly brings up both the political Lefts' and Obama's enigmatic waterboarding- bad, execution -good, dilemma:
George W. Bush was excoriated for waterboarding exactly three terrorists, all of whom are now enjoying an extensive retirement on a sunny Caribbean island (though strolls beyond Gitmo's gates are prohibited). Whereas President Obama, with thousands of kills to his name, evokes little protest from yesterday's touch-not-a-hair-on-their-head zealots. Of whom, of course, Sen. Obama was a leading propagandist.
No argument here:
Such hypocrisy is the homage Democrats pay to Republicans when the former take office, confront national security reality, feel the weight of their duty to protect the nation — and end up doing almost everything they had denounced their predecessors for doing. The beauty of such hypocrisy, however, is that the rotation of power creates a natural bipartisan consensus on the proper conduct of this war.
But even while both the Left and Obama vilify the past war effort as the reasons for our pre-Obama deficit. Unfortunately, there is no true beauty with this nefarious architecture as nurtured by an increasingly obtuse media and its hallowed mainstream opinionists. The semi-complexities, as evidenced by the low-info voters who think voting for a President is the same as texting a winner into American Idol, seems mostly lost even while the MSM continually fails in its normal role as a hypocrisy exhibitionist.
When, in fact, exemplifying hypocrisy, however, might that same mindset also reside in Krauthammer's own camp, when throughout Obama's administration, Krauthammer has repeatedly waxed emphatic over the smartness of Obama? Our stance on the matter is quite simple. If indeed Obama is such a powerful and all-wise brainiac, then does this not make Krauthammer less-than-smart, because he never, ever, agrees with the man? Smart leadership solves problems, and certainly doesn't needlessly exacerbate them, no matter what the ideology. So here also, most Conservatives would choose to diverge from Krauthammer's ideas on what we might call Obama's singular wit in politics.
More Krauthammer:
Which creates a unique opportunity to finally codify the rules. The war's constitutional charter, the 2001 Authorization for Use of Military Force (AUMF), has proved quite serviceable. But the commander-in-chief's authority is so broad — it leaves the limits of his power to be determined, often in secret memos, by the administration's own in-house lawyers — that it has spawned suspicion, fear and now filibuster.

It is time to rethink. That means not repealing the original AUMF but, using the lessons of the past 12 years, rewriting it with particular attention to a new code governing drone warfare and the question of where, when and against whom it should be permitted.
Here, Krauthammer also falls squarely within most Conservative circles, although we cannot fail to note that while Krauthammer essentially accused Rand Paul for his filibustering on the one hand, Krauthammer now seems to be in total agreement with Paul's impetus now, but only in regard to drone use abroad, with the domestic use question thrown out altogether, as ridiculous, when in fact, it's anything but.
Krauthammer:
Necessity having led the Bush and Obama administrations to the use of near-identical weapons and tactics, a national consensus has been forged. Let's make it open. All we need now is a president willing to lead and a Congress willing to take responsibility for the conduct of a war that, however much Paul and his acolytes may wish it away, will long be with us.
A war that will long be with us? If Krauthammer is assessing the past and future conflict with Islamic fundamentalism, that which is now called terrorism, then he is right and in spades. However, if Krauthammer is assessing our ongoing presence as overall post-antagonist to the Middle East, then maybe not. This adminstration, like it or not, after leading from behind is now withdrawing from behind, especially with regard to the war on terrorism. Drone, strikes by and large ,are nothing much more than a half-measure which will probably only serve to further irritate the prophetic beast that may soon be upon us all.
Nevermind the Obama administration's refueling the Muslim Brotherhood with a panoply of US arms considered the best in the world, along with a $250 million dollar allowance for a pre-teen Egyptian dictatorship, which Krauthammer largely supports.
Krauthammer's speciality, it would seem these days, seems to be largely in 'Picking up a turd by the clean end,' if you get my drift.
But to take the argument to its logical conclusion in making this cadre of points, Krauthammer's ideas while often laudable, seem increasingly more often than not as being loosely stapled to the back of a Neo-Moderate movement that can and certainly will only fail, in the long run. It's those who have not yet forged their thoughts in the fires of true Conservatism, who stand to lose the most by allowing Krauthammer's conservatively diluted ideas of Moderate Utopianism to subtly warp their critical thinking skills.
In essence, Krauthammer's vaunted stance among an increasingly polarized Conservative America is much more trick than treat , especially to the Grassroots Tea Party movement if not others, in which he shows nothing if not stealthy disdain.
As viewed by Heartland Americans , Krauthammer, now, seems more to want to ride the dangerous beast of his gainful preoccupation out, while prayerfully admiring its terrifying aspect, rather than to finally put it to pasture, or worse.
February 23rd, 2013
Posted by:
Barry Secrest
Published on February 23rd, 2013 @ 04:49:55 pm , using 2914 words
Conservative Refocus
By Barry Secrest
While President Obama continues his prolific efforts at spending America into third-world oblivion, and the Republicans appear almost ready to throw in the proverbial hat, there is one prominent individual, in particular, who can be depended upon to confidently recast the deficit argument into the fairy-light of radical ridiculosity.
That individual is none other than Left-Wing Economist Paul Krugman, a man who has never seen a government dollar go to waste, and who insistently wishes for an impending extra-terrestrial attack on earth, so that Obama can spend America into extra-galactic oblivion.
In his latest article, Krugman can be heard to be insistent on kicking the debt-can down the road, over the cliff, and into the dark abyss of shredded-up currencies, and perhaps even well beyond the boundaries of the galaxy, since the stupendous amount of $ 17 trillion just hasn't quite done the trick for the US economy as of yet.
The illustrious Krugman begins by citing Speaker of the House John Boehner:
John Boehner, the speaker of the House, claims to be exasperated. "At some point, Washington has to deal with its spending problem," he said Wednesday. "I've watched them kick this can down the road for 22 years since I've been here. I've had enough of it. It's time to act."

Actually, Mr. Boehner needs to refresh his memory. During the first decade of his time in Congress, (Early 1990's) the U.S. government was doing just fine on the fiscal front. In particular, the ratio of federal debt to G.D.P. was a third lower when Bill Clinton left office than it was when he came in. It was only when George W. Bush arrived and squandered the Clinton surplus on tax cuts and unfunded wars that the budget outlook began deteriorating again.
Now here is where the fallacies begin in earnest, for Krugman, and from there they never seem to stop, especially for a Nobel Prize winning Left-Wing anti-capitalist. Krugman begins by hearkening all the way back to Boehner's career while Clinton was in office in the early nineties and onward. However, what Krugman leaves out is the history of this period in the US. You see, the reason for that decade of fiscal balance was due to the Republican's "Contract with America," where the US government was shrunk down to size, the welfare state was largely done away with, and individual responsibility became the hallmark of governance brought under control.
The important thing to remember? Congress holds the purse strings, referring to the bicameral chambers of the Senate and the House, which have remained split, since the 2010 election. In essence, in the decade of the nineties, Clinton's comparably moderate hands were essentially tied in what he could spend, by Congress, hence Krugman's delight at naming Clinton as the budgetary savior, while forgetting the essential truths at play.
A Bit of History
At the time, it was 1994 when a debt-concerned America moved control of both the House and the Senate over to the Republican Party, and it was here that fiscal sanity was returned to America, at least for a time. The budget balancing under the Republican controlled chambers would continue for a decade, as the party of limited government would remain in control. It wasn't until 2001 when a Senate Republican would flee to the Democrat party that the Senate would come back under Democrat control, but only for a short time.
On September 11, 2001, America's walls would be breeched for the first time in the modern era by a group of religious radicals dedicated to the destruction of western civilization and its leader, the US. It was also here that America would first come head-to-head with the anti-Christ forces of fundamentalist Islam, conflict in which Krugman only seems to find contemptuousness towards the US, and for reasons already enumerated.
In 2004, control would revert back over to the Republicans. In fact, not until January 2007 would control go fully over to the Left-Wing of American politics, and this is where America's budgetary nightmare would begin, and in spades, as referenced in the below chart.
Note the spike beginning in 2007:
What's interesting is Krugman's use of the word "unfunded wars," above, as if anything that Obama and the Democrats have been doing "is funded?"
In fact, the problem is the yearly aggregation of all of these deficits, not the yearly deficit itself. Indeed, at a certain point of running these annual deficits, as they continue to stack up year after year, the total build-up becomes untenable, which is the essential problem, and which is also where we find ourselves in the America of today--a problem which Obama and Leftist "experts" like Krugman never seem to take into account.
Krugman haughtily continues:
But that's a secondary issue. The key point is this: While it's true that we will eventually need some combination of revenue increases and spending cuts to rein in the growth of U.S. government debt, now is very much not the time to act. Given the state we're in, it would be irresponsible and destructive not to kick that can down the road.
But, wait, Mr. Krugman. We have all been told by the mainstream media, and yourself, over the past 4 years that things are looking up, that the economy is improving and things will be right again very soon. Now, after the presidential election, the tune has seemingly become just a shade more realistic or should that be fatalistic?
Now you're telling us that things haven't really gotten better, despite all of the economic crowing in 2011 by the media, and we need to keep spending ourselves into just a little bit more of oblivion so things will then turn out, magically, just right?
Imagine that.
So, because these policies that Krugman has been espousing for the last four years have been working so infamously, we need to now hurry up and wait just a few years more to fix the problem. But, Krugman, dear man, what if the real problem is actually the fact that we're not doing anything to balance this outrageous debt in the first place, hmmm?
Krugman haltingly continues:
Start with a basic point: Slashing government spending destroys jobs and causes the economy to shrink.
This really isn't a debatable proposition at this point. The contractionary effects of fiscal austerity have been demonstrated by study after study and overwhelmingly confirmed by recent experience — for example, by the severe and continuing slump in Ireland, which was for a while touted as a shining example of responsible policy, or by the way the Cameron government's turn to austerity derailed recovery in Britain.
Indeed, that's not a basic point, but rather it's a fatally flawed point and is easily debatable. Government spending has to be taken from someone or something, Krugman, and if it's taken from someone, then that someone can no longer spend it. It it's taken from something, that being an bond invested in the government, then over 40% of the money taken now has to be repaid to the something or someone in the future, in the form of interest. With America's current load of debt, it becomes money that cannot be used by the very people who actually make the economy go forward.
In truth, if government spending is so absolutely fantastic, Krugman, then why don't we put everyone on unemployment and enjoy the crest of unbounded economic activity, that's sure to follow? Well, that's ridiculous, Krugman might say, and indeed, Krugman would be correct, which reflects the glaring flaw in his imperfect arguments.
Then Krugman trots out two Socialist forms of governments , in Ireland and Great Britain which have been overspending themselves to the same tune as Greece, and tells us that there spend-slashing is what has made their economies sink. However, how can you reach that particular conclusion?
Let's look below, and Behold! The period from 2002 onward represents a Left-Wing, Obama-style, aggregate of deficit spending, by a Leftist to be sure, that finally took its toll in 2009. While Krugman blames Cameron's reductions in deficit spending for the last several years, Krugman completely ignores the build-up of economic detritus that has been aggregated for the entire decade prior.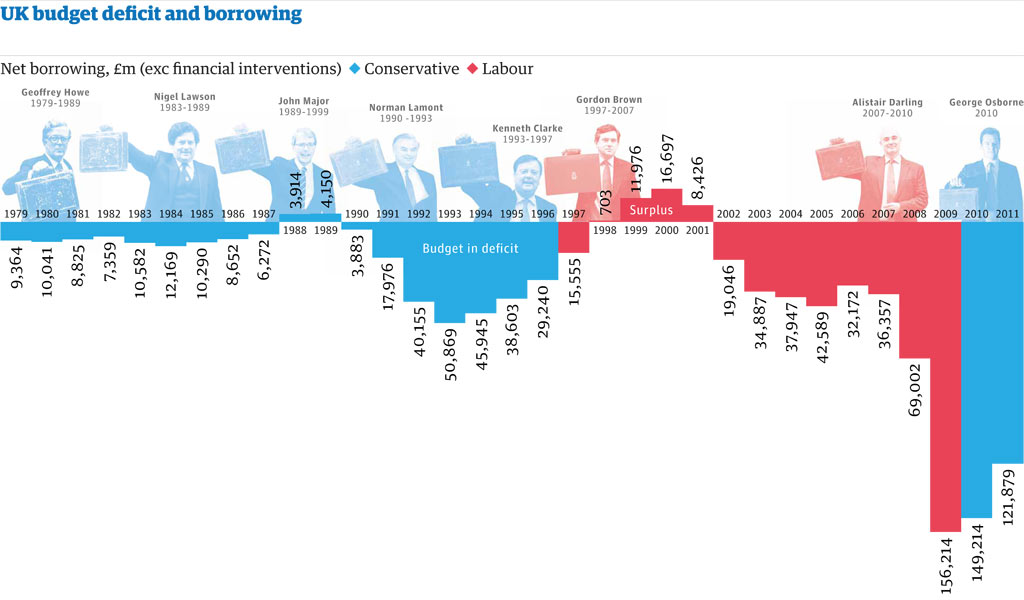 But what about Ireland, which is the other country that Krugman trots out? Oh, snap! Here, yet again, an aggregate of deficit spending that this tiny little economy could in no way overcome in just a few short years.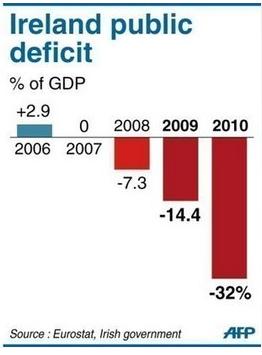 Krugman, dejectedly, continues:
Even Republicans admit, albeit selectively, that spending cuts hurt employment. Thus John McCain warned earlier this week that the defense cuts scheduled to happen under the budget sequester would cause the loss of a million jobs.
John McCain, Krugman? Seriously? The diminutive Ogre of the Tea Party's Hobbit-Land, as he calls it? Is he the absolute best that you can come up with on the Republican side, for God's sake? He can't even win a Presidential election against a radical Marxist in the Heart of world capitalism. The scrapings must be getting thin, indeed.
Krugman hesitantly continues:
It's true that Republicans often seem to believe in "weaponized Keynesianism," a doctrine under which military spending, and only military spending, creates jobs. But that is, of course, nonsense. By talking about job losses from defense cuts, the G.O.P. has already conceded the principle of the thing.
Weaponized Keynesianism? That would have to presuppose that the military makes money, somewhere along the way and it simply doesn't. Krugman is taking a government economic spending model called Keynesianism and slathering onto an entity that simply has no tangible way to produce an income, thus encompassing a sort of one-way military economy. Instead of "weaponized Keynesianism," lets try "weaponized imbecilism" which is apparently at the heart of Ole' Krugman's US economy-shattering attitude.
That dog simply won't hunt, Krugman. The military is not a micro-economy, although, that academian-acid you're hitting must be some pretty good stuff, I must point out.
Krugman woozily, continues:
Still, won't spending cuts (or tax increases) cost jobs whenever they take place, so we might as well bite the bullet now? The answer is no — given the state of our economy, this is a uniquely bad time for austerity.
As if there is a good time to throw-up, Krugman? In fact, austerity measures are undertaken by a State to avert an economic disaster, slated to happen somewhere down the road, you know, the road we're kicking the can down. If the economy has a stomach ache because of something that it has consumed which is causing extreme discomfort to that particular economy, then the economy needs to in essense, throw-up, and get whatever's causing the economic bellyache to go away.
Now, while throwing up isn't a pleasant thing, it's much better to take that little bit of discomfort now, rather than to allow whatever is hurting the economic body, to run its course and make the economy septic after being allowed to be absorbed throughout the entire body economic. Never mind what eventually comes out the other end of that same economy, which just so happens to be what we are only midly beginning to see right now in comparison to what may come.
Krugman grimaces onward:
One way to see this is to compare today's economic situation with the environment prevailing during an earlier round of defense cuts: the big winding down of military spending in the late 1980s and early 1990s, following the end of the cold war. Those spending cuts destroyed jobs, too, with especially severe consequences in places like southern California that relied heavily on defense contracts. At the national level, however, the effects were softened by monetary policy: the Federal Reserve cut interest rates more or less in tandem with the spending cuts, helping to boost private spending and minimize the overall adverse effect.
But wait, Krugman, didn't you, just a bit earlier, crow about how the decade of nineties was the greatest thing since Jiffy peanut butter? You know, while your greatest American hero, Bill Clinton, had his hand firmly on the tiller, and not a few other things , I might add? Wait, I shall go and fetch it for you...and voila' from just a few paragraphs up:
During the first decade of his time in Congress,(beginning in 1991) the U.S. government was doing just fine on the fiscal front. In particular, the ratio of federal debt to G.D.P. was a third lower when Bill Clinton left office than it was when he came in.
Okay, so now we all are confused Mr. Krugman.
In the first part you painted the decade of the nineties as the most wonderful time of the years. Now you're telling us it wasn't, except for an increase in private spending? That's not Keynesianism, that's Reaganism, and we all know how you feel about Reagan! Government spending is the thing you've been keying on throughout this entire article, especially when you continually bring up Keynesianism, so what gives, exactly?
Maybe it's actually you, Sir, who are confused.
Krugman warily continues:
Today, by contrast, we're still living in the aftermath of the worst financial crisis since the Great Depression, and the Fed, in its effort to fight the slump, has already cut interest rates as far as it can — basically to zero. So the Fed can't blunt the job-destroying effects of spending cuts, which would hit with full force.

The point, again, is that now is very much not the time to act; fiscal austerity should wait until the economy has recovered, and the Fed can once again cushion the impact.
Ah, but here, you see, the Fed has a bit of a problem. If interest rates naturally rise, ahead of the US Treasury's short-term treasury bonds, and eventually long-term bonds, then bond interest yields will be forced to rise also, over time. What if the markets dictate an interest rate rise ahead of the treasury's artificially set levels? Then, we could have what is referred to as a 'treasury bond bubble.'
In order to set treasuries at a level competitive with the markets, in this case, the interest rates that the US pays in debt could quadruple over time, essentially forcing the US into paying all of it tax revenue in bond debt, at some point.
Now, we all know what that means, right? The longer we wait to fix the problem, the worse these eventualities can and will become.
Krugman plows forward:
But aren't we facing a fiscal crisis? No, not at all. The federal government can borrow more cheaply than at almost any point in history, and medium-term forecasts, like the 10-year projections released Tuesday by the Congressional Budget Office, are distinctly not alarming. Yes, there's a long-term fiscal problem, but it's not urgent that we resolve that long-term problem right now. The alleged fiscal crisis exists only in the minds of Beltway insiders.
Indeed, America's financial security ratings have already dropped to an AA level for the first time in the nation's history. Is not that, alone, enough to say that America is in the midst of a financial crisis? But then, Krugman goes on to state that there is a problem, but it's not one that needs to be corrected anytime soon. In essence, if you're walking along on set of railroad tracks and a train rounds the corner, when should you step off? Should you immediately exit the tracks upon seeing the danger? Or, should you wait until the train is about to completely obliterate you, efforting a daring escape at the last possible moment?
Maybe Krugman just likes living dangerously....but what if the train speeds up? What if your foot becomes caught in the track? What if you pass-out in the ensuing excitement and unexpectedly collapse on the tracks? Why wait for a better time when we may, in fact, be within that better time before everything begins collapsing all around us?
Who, in fact, could actually know the answer to this question?
Krugman stays on-track:
Still, even if we should put off spending cuts for now, wouldn't it be a good thing if our politicians could simultaneously agree on a long-term fiscal plan? Indeed, it would. It would also be a good thing if we had peace on earth and universal marital fidelity. In the real world, Republican senators are saying that the situation is desperate — but not desperate enough to justify even a penny in additional taxes. Do these sound like men ready and willing to reach a grand fiscal bargain?
But...even Krugman himself earlier writes that now would be a bad time to correct our government spending due to the bad economy. Hasn't every economist in the land, including the President, told us that raising taxes in a bad economy is a horribly bad thing to do? My, we seem to have a bit of quandary embedding itself throughout Mr. Krugman's assertively confused opinion.
But Krugman intrepidly circles back around:
Realistically, we're not going to resolve our long-run fiscal issues any time soon, which is O.K. — not ideal, but nothing terrible will happen if we don't fix everything this year. Meanwhile, we face the imminent threat of severe economic damage from short-term spending cuts.

So we should avoid that damage by kicking the can down the road. It's the responsible thing to do.
So, in essence, stay on the tracks, ignore the train hurtling towards us, FORWARD...to the culmination of Obama's transformation of Amerika, got it!
Next stop? Procrasti-Nation Station...where living dangerously and spending other people's money, namely our children and grandchildren's, becomes the national pastime...move over football.
"All Aboard!!!"