April 11th, 2011
Posted by:
Kim Stallings
Published on April 11th, 2011 @ 06:08:30 pm , using 3466 words
Conservative Refocus
By Barry Secrest
Let's talk about "ANTI-birther" blather for a change shall we?  The new mainstream media has officially reached a trembling crescendo of state-mandated reactionary rhetoric concerning the President's mystifyingly elusive birth certificate. In fact, unless our relatively now state-sanctioned media can be relegated to the perpetual plagiarists category, it would appear that our fearlessly intrepid news organizations are acting in lockstep, journ-o-listic backlash against a growing world of  skeptics with their newly conjoined, favorite words now being "birther-blather." Doubtful? Very well, then pause from reading this and enter in a Google search for "Birther Blather" and behold the over 3,350 results.
Even more impressive? Remove the quotation marks from your birther blather search string and then note the over 1,260,000 results; fascinating, huh?  So why is it that the media, who are supposed to be our built-in skeptics of all things Government and otherwise, appear to now be the permanently built-in apologists for hope and change, or the new theme, that being "WTF?" For the answers to that question, we must look to brother-extraordinaire, Leonard Pitts' most recent racially inspired tirade (what else?) against anyone who is not yet totally convinced of Obama's origins.
To be fair to Pitts, a favor that Pitts rarely extends to anyone lacking copious melanin content, Leonard did not use the word "blather" anywhere within his column. Yet, many of the newspapers which edited and ran his column, certainly did--within the title, in fact. Pitts, choosing to eschew the already well-worn word blather, rather chose to employ a rather unimpressive lexicon of name-calling to those he calls birthers that one might ordinarily deploy in an aggressive vehicular sojourn around any busy metropolis.
A Nation Of Jack-Asses (Who Voted For Obama)
Pitts called virtually anyone who doubts the now-overwhelming body of non-birth certificate evidence, a range of nasty names from "jack-ass" to "pinheads" and beyond. The interesting thing is simply this, he seemed to be referring to non-blacks--only--as one perplexedly begins to understand while reading Pitts' column.  After glancing through Pitts' words, I later gave the column to a friend who knows Pitts and had indicated him as a very gracious individual who had generously donated a good deal of time, on various occasions, to her college classes.  Her response to me, after having read everything Pitts had written, was to drop what I was writing and immediately refute Pitts with great indignant vigor.
But in reading Pitts mainstream media anthem to anti-birther angst, I could only surmise that the illogic that America has seen deployed by its mainstream media over the past several years, with regard to this trainwreck-Presidency of the media's making, has been nothing less than illuminating for us all. After everything that we have seen from our Government, especially the Democrats and Obama over the past several years, the question becomes who wouldn't ask at this point?
For instance, after seeing nothing less than year upon year of whining and complaining about Bush's war-mongering over the prior two terms, what does Obama do but embroil the US in yet another war without Congressional approval and for no stated goal. The media's smattering applause was difficult to overlook, never mind the scores numbering into the thousands dying across other African countries with regard to our lack of additional humanitarian pursuits.
Further, we are now involved in a war that fails to involve any true American interest at a time that we simply cannot afford it, in which Al Qaeda is absurdly fighting beside us, and we may even elect to help arm these terrorists, according to the President. The response? Even more smattering applause from the media at the Messiah's brilliant non-plan of beyond bizarre decision making.  So, where are Pitts' words of righteous indignation on that particular front?  So far, all that we have gotten from the anti-war Pitts is the sound of crickets chirping when Brother Obama decides to go to war or "kinetic action."  Hypocrisy is as hypocrisy does--being the operative point here.
Selective Righteous Indignation = Hypocrisy
Pitts, within his column, after the spate of name calling against those whom disagree, then apologizes by laughably stating, "I am not much for name calling."  To which we must point out, "since when, dear Leonard?" In fact, name calling is what you have built your entire journalistic career on, Sir.  Calling people racists for not agreeing with you, or for not agreeing with your liberal culture, or for not being enamored of your hero is pretty much all that you have been doing from day one.  The fact that one can actually make a meaningful living at name calling was a thing that we had thought might end with Don Rickles' career; however, you, Mr. Pitts, have taken this phenomena to a whole new anti-inspiring level.
Pitts then proselytizes over the fact that questioning Obama's birthplace "lowers the discourse."  When, in fact,  recalling our first rebuttal to Pitts, which viraled out all over the web, we pointed out that Pitts could be heard forcefully calling the Tea Party "nothing but a bunch of racists" ad nauseum.  Is that not also lowering the discourse, or does Pitts retain a permanent hypocrisy evasion card?  Here again, Pitts even cited a poll trying to prove his thuggish point, even while glossing over the fact that virtually all people of color voted for President Obama. Could that not also be racism, Mr. Pitts?  Our answer would be that it might seem that way, but who am I or who are we to say what is in the heart of Black voters as to their choices?
Pitts goes on to bemoan that a thoughtful response from those who are skeptical of Obama's birth origins is about as likely as Miami having snow on the fourth of July. Well, Mr. Pitts, get out your sweater, and I hope you have a warm pair of long-johns handy; thoughtful response coming right up...
A Thoughtful Response to The "Birther" Question
The first question of Obama's citizenship, regarding his original long form birth certificate, is the question on which everyone focuses. That simple question as to where the original certificate might be, despite all of the anti-birther blather, has yet to be identified. The same people who qualified the President as eligible were the same ones who also qualified Obamacare as "needing to be passed so that we will know what's in the bill." Perhaps they used the same protocol for selecting Obama as they used for passing Obamacare, who knows? The only proof, that we have seen of Obama's origins, lies within a short-form birth certificate that could have been reproduced in any office on any piece of fairly modern technology.
Below is Obama's only publicly known certification of live birth:
And below is an actual Hawaii birth certificate model, that no one can seem to find for Obama, which, by the way, has obviously been clacked out on a circa 1960's typewriter: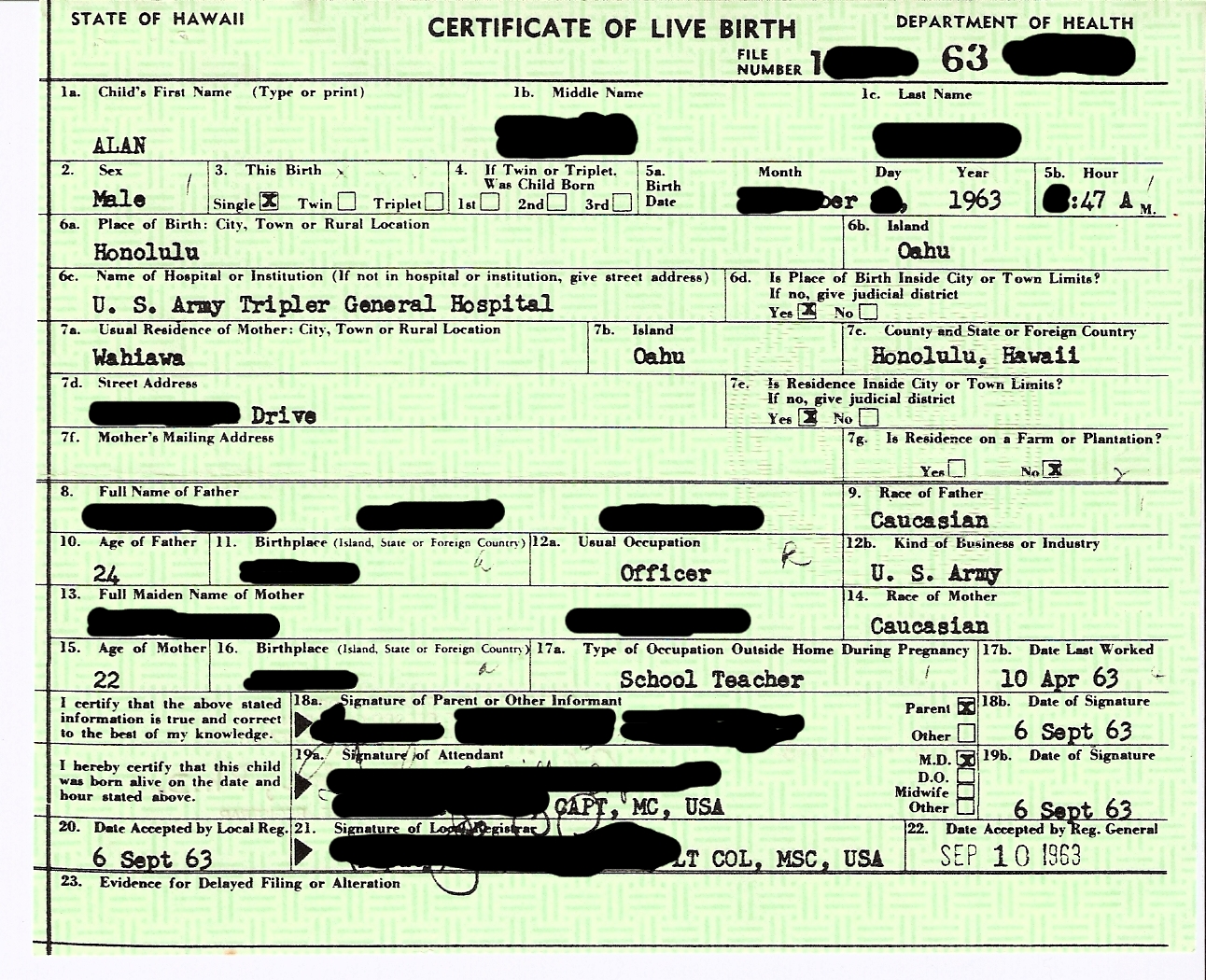 The second question delves even deeper and tries to determine if Obama's original Hawaii birth certificate were available, would Obama yet be ineligible to be President? You see, the US Constitution puts forth language that would imply that any citizen NOT born as a natural born citizen would be ineligible to become President:
The Constitution requires that Barack Obama be a natural born citizen:
No person except a natural born Citizen, or a Citizen of the United States, at the time of the Adoption of this Constitution, shall be eligible to the Office of President;
The term, "natural born citizen,"  defined as the framers of the Constitution would have originally intended, would have been as follows from the 1758 book "The Law of Nations" :
… natural-born citizens, are those born in the country, of parents who are citizens. … children naturally follow the condition of their fathers, and succeed to all their rights. … The country of the fathers is therefore that of the children … in order to be of the country, it is necessary that a person be born of a father who is a citizen; for, if he is born there of a foreigner, it will be only the place of his birth, and not his country.
*Special thanks to the website I Took The Red Pill
The fact that original intent always plays heavily in determination of law and of the US Constitution weighs magnitudinally in this regard. The operative point here being that the Founders did not use the term citizen but rather used the term natural born citizen for the position of President, being a child born on US soil and being born of US citizens as both father and mother. Obama's father, as we all now know, was of Kenyan ancestry and was a British subject at the time of President Obama's birth. One must also note that the Framers took special measure to include within the entry for presidential eligibility "or a citizen of the United States at the time of the adoption of this Constitution." This one particular sentence applies meaningfully to the fact that there were very few citizens, at that time in the 1700's, whose parentage were not immigrants.
Their meaning therefore, it must be asserted, should be clear to all that the Constitution clearly recognizes parentage citizenship and the meaning of natural born by including this entry. But where then does this leave John McCain, is the question that many have asked. Interesting point, in that McCain was not born on US soil and yet, dare we point out that McCain is not the President? While this point might prove interesting, it is ultimately a meaningless attempt at deflection. Pitts then hearkens back to a 2010 poll, no doubt his most favorite of all time, in which 20 percent of Americans and 30 percent of all Tea Partiers believe that the President was not born here. And your point is, Leonard? Shall we bring in an anti-birther force to arrest these Americans? What US Citizens believe is largely based upon what they have seen and heard from Obama, despite every effort by the media to protect the President's now fragile image.
Of Dead White Guys And Birth Certificates ( Or Almost Dead)
In fact, Obama did at one time say the he would "stand with the Muslims" and most people now know this. Further, many Americans are painfully aware of Obama's often racial musings in two books which were supposedly written earlier by the President himself. Here, and once again from Pitts, we hear the ever-pleasant serenade of crickets chirping even louder. Racism, it should be noted, is not a one way street, Mr. Pitts. But, then Pitts points out Whoopie Goldberg's caustic rant demanding of Donald Trump "Has any white President ever been asked to show his birth certificate"? Well, Whoopie and Pitts, with regard to"non-blacks" being severely questioned as it regards eligibility either before, during or after their successful or otherwise presidential candidacy, the history books brim over. But, owing to our obviously lacking education system, we would be happy to instruct you in that particular regard:
Chester Arthur-was questioned concerning his citizenship.
Al Gore-because of his birthplace being Washington DC, not a state, was questioned.
Christopher Schurmann-Back in 1898 was questioned due to parentage.
Charles Evan Hughes--during the election of 1916.
George Romney--during his presidential run in 1968, Mitt Romney's father.
Barry Goldwater--during the election of 1964, born when Arizona was but a territory.
Lowell Wicker--born to citizens but on foreign soil in France,
The list goes on, and yet, we would be remiss if we did not point out that none of the above were black men. Any questions? So, as Pitts prematurely rings out with his "Let the church say amen" to Goldberg's ignorant statements, Pitts then summarizes his entire argument based upon Goldberg's incorrect assumption, as being nothing but birther nonsense. But here, it must be pointed out, indeed is the thing, and it speaks to procedure. The fact that Nancy Pelosi and Harry Reid, being political citizens--held in nothing but the highest regard--by the inner-beltway crowd, were the ones that actually certified his Eminence, speaks volumes. Never mind the clever post-manipulation of Hillary Clinton as being the new Secretary of State; need I say more?
Training Racist Pet Morons
Then Pitts wishes everyone to ignore the omnipotent fact that has shrouded Obama's Presidency in doubt from day one. Pitts actually asks that we leave well enough alone the fact that anyone who criticizes Obama has been or will be accused of racism. Pitts states then that we can criticize the President on essentially anything that we wish, but not on this birther issue. Oh My God! Pitts has, even before the birther issue came to a head, been calling anyone who criticizes the President a racist from day one. Pitts even recalls his stereophonic racist rant within this same column, of the Tea Party, for heaven's sake.
Pitts further states that Obama's supposedly Muslim identity is also about Obama's color, being half-black or black or half-white. It's not just about what we suppose or don't suppose, Pitts. It's also about what the world knows. Franklin Graham has stated that the Muslim world considers Obama Muslim. We know that Obama was raised in the Muslim tradition in Indonesia and that Obama holds his Muslim upbringing in sweet sentimental regard; we also know that Obama publicly converted to Christianity. We known that Qadaffi referred to Obama as "our Son". We know that Louis Farrakhan of radical Islam used to hold Obama in the highest Islamist regard before the President attacked Libya or Qadaffi or perhaps both. So while Pitts may consider the valid questions on Obama's faith as more blather, we would disagree, for no reason other than because the President's inward-held beliefs should also reflect his outwardly-communicated principles and most Americans remain consistently confused by their President in this regard.
Pitts goes on to then remark on how, "like States Rights, these controversies are a code, a dog whistle for those with ears to hear." Pitts essentially states that the whole reason that much of America disagrees with the President is due simply to the fact that the President is black and that blacks now hold the Presidency. Wrong, Mr. Pitts! We know that a radical liberal holds the office and nothing more, and thanks for comparing those that doubt to dogs, by the way. Pitts then actually calls out anyone who is white that disagrees to be "morons" by stating "memo to the morons, it doesn't work, nobody is fooled."
Hmm...Pitts, have you checked out the current status of black students, as a whole, in education, Sir? If you know the beyond frightening answer to that question, and you would call a preponderance of people who differ both in color and political stance as being morons, then where does that leave you and your now rabid racist stance?  Does Pitts not realize that about half of all whites elected Obama as President? Does Pitts not also realize that Obama has lost much of that crowd due to the sorry state that we now find our Republic in, or shall we gloss over that as well? Does Pitts, in fact, not see that he has just completely painted himself as an honorary member of the Black Panthers? And, it should be pointed out, Pitts is in high company, what with the DOJ's snuggly camaraderie with the Black Panthers, eh? But Pitts has yet to address that perplexing issue as well, as a plague of locusts now take over the deafening chirping.
Pitts is, in effect, a true coward when it comes to the issue of intelligent political veracity, it should be pointed out. It's  either that or the fact that Pitts holds a magical pen that permits even an idiot-savant to wield it with disingenuous skill codified by racist glee and then emblazoned with argumentative speciousness. You do your own fine race a disfavor, Sir, and many of them will undoubtedly recognize this fact. While Pitts' argument now appears to be more with whites than any political acumen, it does become ragingly clear that Pitts must account himself as a member of the intellectual crowd. This only because of the coffee-sipping ease I have just employed in slamming down his entire scope of neglectful ranting  and showing it for what it is.
Where There's Smoke...
Pitts does later, in fact, trip up his entire argument by bringing in the fact that Hawaii officials actually vouched for Obama as having a valid birth certificate. When in fact, there may yet be many who have not heard of Hawaii Governor Abercrombie's still beyond mystical search for Obama's birth certificate, without having found it. Oh ye, Mr. Pitts, of little perspicacity.
You see, Abercrombie, in December, came out with a declaration that he is, as a Democratic Governor and avowed friend of Obama, wished to put this issue to rest. Abercrombie further stated that the President did not need this cloud of doubt following his every move in the future. So, as a powerful Governor from Hawaii in charge of every Hawaii Department, Abercrombie, with considerable skill and deftness, set to work. Looking high and low, Abercrombie later came out with the statement that everyone had been anticipating. Alas, it was one of disappointment, in fact. Rather unamazingly, Abercrombie could not find the original birth certificate and lamented this fact to everyone. The Governor even discussed this with a media talk show host friend in which this friend actually--later on--communicated Abercrombie's words to the world. Those words were "we just can't find it."
The talk show host later recanted his entire story with the rather odd words "no comment at all." Abercrombie has remained quiet, and while many news organizations have come out even vilifying those politicians and members of the media who refuse to even bring the subject up. They, in effect, want the axis press to come out in a full phalanx assault against anyone who will not belittle and antagonize those who either keep asking the questions or refuse to address the questions.
We have news that the  State of Hawaii has refused to release the birth certificate.
We have news from a retired US Air Force Colonel that President Obama's Social Security number had never actually been issued.
We have news that Hawaii has had Obama's birth records sealed.
We have news that the Democratic National Committee actually changed the qualification certificate wording to fit Obama's nationality question back in 2008, essentially removing the certification of  Obama's eligibility.
We have news that there have been either threats or rumors of threats directed at members of the media who bring up the eligibility question.
We have even Conservative of note inching themselves away from the question of Obama eligibility.
These are but a few of many instances we could bring up, in fact.
Pitts, in a reach for viability at the end of his column even grasps for the straw of plausibility by drawing from not one, but two newspaper announcements that Obama had been born! Well, we are then to believe that the fact that someone paid two newspapers to announce the fact of Obama's birth as being the be all and end all? We don't think so, unfortunately. Pitts ends his racist rant by wishing that all of the doubters would call the President the N-word.
And herein lies the power of an intellect lacking in any form of substantial argument. Well done, Mr. Pitts, well done. You know Pitts, you can say that particular word by the way, it's just the other folks lacking in sufficient coloring who cannot.
The simple fact is that with Pitts' most recent column he has both reached and broken through the shatterpoint of credibility along with Obama's birth certificate question. This is also why we have, on a daily basis, observed search strings within our site's analytical software asking the question "is Leonard Pitts a racist?"
In fact, and getting to the valid summation, at this point all that we have are the now strongly understood reasons by the American people as to why the Founding Fathers reasoned that a President's parentage and upbringing within America are so terribly important to the Nation. The values of this nation are something that cannot be learned in a hostile, anti-American madrasah. Thus, the very clear requirement to be a natural born citizen.
What we have seen from our leadership is, more often than not, why many people now question the President's birth origins. It's not that anyone for certain knows that Obama was not born in the US, nor is it that anyone, indeed even Governor Abercrombie, that can be absolutely sure that the President was certifiably born within the US.
Where is the undamnable proof?
And therein lies the rub...
March 13th, 2011
Posted by:
Barry Secrest
Published on March 13th, 2011 @ 01:43:30 pm , using 3024 words
Conservative Refocus
By Barry Secrest
Are Columnists Michael Gerson and Paul Krugman twin sons of different mothers?  An even better question:  Is bizarre the new reality in today's political world of half-baked punditry?  At best, is it a requirement to either be a quantifiable nut-case who most recently stated that our $ 14 trillion dollar deficit is not a true concern, despite the fact that we may never be able to balance the blasted thing again, as Mr. Krugman actually stated?  Or, in a hyper-spate of extreme hypocrisy, is it Mr. Gerson's recently lamenting how we Conservatives feel about revolutionary "Democratic" protests in the Mideast--while Gerson essentially stomped  upon and trashed the truly Democratic "Tea Party protests" here within his own country for the past two years?  "What" on God's brown, sun-scorched earth are these guys smoking becomes the penultimate question?
Granted, Michael Gerson does tend to often write half-in and half-out of the shadows as it regards right-wing politics, frequently having the correct ideas but never quite drawing the full and proper conclusions from them.  Meanwhile, Krugman, also an anti-Tea Party zealot, virtually always starts out with fallacious conclusions and then tries to interject factually correct ideas to foment his habitually flawed answers.
It's a fascinating study in cause and effect. Examining how these writers, at the top of their mainstream media professions, make their respective cases, along with how they also endeavor to shape opinion with often perversely flawed perspectives.  Kind of like  Charlie Sheen writing political/cultural opinion--in a jiggly bed--is the rather daunting image that fills the mind's-eye.
Granted, Gerson did write numerous speeches for George W. Bush, and yet, it must also be noted that he, Michael Gerson, wrote  numerous speeches for George W. Bush...
Banging The Liberty Bell Of Freedom--Just For Fun?
But, in Gerson's latest column, "Conservatives shouldn't be so surprised by freedom," he delivers what would amount to a furious metrosexual diatribe, for him, leveled at Conservatives who are cautiously pessimistic about the protests going on in the Mideast.  Now, when I say "for him", I mean to infer that anyone who has read only a few of my "sometimes" caustic columns will generally have not even a tittle of doubt as to exactly where our particular attempt to shape and inform via opinion stands.  Fully in the sunlight, no shadows nor anything even hinting at hesitance.
Just say what you've been thinking, explain your reasoning, and be done with the thing while keeping it snappy to some degree.  Krugman is much the same way sans snappiness, I will admit.  Gerson, however, often appears to be hedging just a bit, but in this specific case, he thoughtfully allows us the understanding that he is not at all happy with those of us Constitutional Conservatives who have yet to loudly bang the liberty bell of freedom for the Mideast, as he is apparently prone to do with far too many events, having made an incrementally irritating career at it, for oh so long.
Gerson, in his column starts out by telling us that our often conservative criticism of the "democratic transformation" that is occurring in the Mideast is, indeed, unfounded.  He further notes that we are rather arrogantly, a word that I have interpreted from Gerson's ill-stimulating ginger tense,  concluding that Democratic success is not possible in a society lacking a Democratic culture.  Interesting conclusion, yet not exactly accurate--at all--with regard to how Conservatives actually feel about the process going on within the Mideast.
To wit, these events, Sir, are not a simple exercise in Democracy breaking out, there will always be far more to this sort of conflagration than the happenstance of every searingly irritated Arab finally settling down to a 'Leave it to Burka-Beaver' existence.  Surely you must know that only a few of these regimes will probably go the way that those of us intimately familiar with liberty, and all of its trappings, know to be best.  Especially for both the world in general and for the down-trodden citizens who began all of this in the first place.
Cross-Dressing, Mini-Revolutions and The Tweet-sie Railroad

In that same vein, further fleshing out my point, perhaps Gerson should find a phonebooth and quick-change into a burka-halter, replete with pom-poms and tennis-pumps and spinningly cheer even more wildly as the increasing  Arab instability spirals US fuel costs expectantly upwards and into the stratosphere of American disappointment.  Perhaps Gerson tools around on a ten-speed much of the time is the rather unremarkable possibility.  While Gerson continually takes stabs at Conservatives, pointing out the myriad problems with all of this wonderful "Democracy" breaking out, he fails to include what it's doing to both the US and its allies.
Currently oil has sizzled upwards to $ 104.00 per barrel and inflation is rocketing food prices upwards from the effects of both world instability and QE2, among a host of other domestic and foreign issues.  Maybe if we can just talk these regimes into toppling themselves at a rate of one per year, things would be so much more stable for us all.  I feel certain that Gerson's eyebrows might have shot up, musefully considering the possibility of that idea, though unremittingly implausible it may be--and so it is with what I am gleaning from Gerson's words up to this point.
Next Gerson points out how a "leaderless revolution is impressive in its own right" with regard to Egypt, to which we would note:  Oh really, Michael?  Most would also refer to the Tea Party protests as a leaderless revolution in which members indicted all of the government overreaching and beyond ridiculous largess.  But in our "American Democratic Tea Party Revolution," Gerson's petulant voice of unenamoured vilification could be heard humming a slightly different, if not off-key tune of dissonance.
Yes indeed, in fact Gerson spent a large part of his time criticizing the Tea Party and talking of how "toxic" it was and how it was bad for the Republicans (see Gerson's "Tea Party Toxic For GOP," 8/25/10).  In fact, Gerson pointed to one of the figureheads of the Tea Party as "a collection of tweets."  Well, Michael, perhaps we should just call our mini-revolution the "Tweet-sie Railroad," because post-election saw the dust clearing on a Republican takeover of most of government, as a result of the Tea Party, AND as having been repeatedly predicted by this column as opposed to your own, kind Sir, for nearly a year prior.
The question as to Gerson's "leaderless revolution" is just that--a question--at this point.  However, eventually revolutions must adopt defacto leaders, and that position generally will go to the most organized of the revolutionaries.  So, hmm... sifting through all of the possibilities, which leaders have emerged thus far?  Mohamad El Baredei is one who stands out.  He is, by the way, a Muslim Brotherhood aficionado.  So whom else?  Well, how about the spiritual leader of the Muslim Brotherhood?
Formerly exiled Egyptian Shaykh Yusef Al-Qaradawi, who could be considered the anti-Limbaugh of liberty, urged the Egyptian revolutionaries to continue their protests and demands until their goals had been fully met, which included all sorts of interesting positions and demands.  Al-Qaradawi is, not surprisingly, also the President of the International Union of Muslim Scholars and is best known for his lectures urging the extermination of the Zionists-- more commonly known as the Jewish people.
Things Could Go Wrong, But Who Cares?
To those individuals, such as Gerson, who consider the arrival on the scene of Al-Qaradawi as "innocent," we then need to look to one of the originators of the Egyptian revolution, that being Wael Ghonim, the Google executive who helped to provide both the voice and the blueprint for the popular uprising.  Ghonim appeared at the victory stage on February 18th, along with Al-Qaradawi, but was prohibited by security from mounting the stage and addressing the Egyptian people, in strict deference to Islamist Al-Qaradawi.  Thus, the young man left the event with an Egyptian flag hiding his face.  Is this the democracy of which Gerson speaks so emphatically?
Gerson does hint, throughout his column, that things could go wrong.  In one instance he states that "it may take time to get the content right."  He also states that "democratic transitions can be difficult," and then further notes, "no good outcome is guaranteed" and that America's founders presided over a system where some humans were owned by others--which was resolved only by a civil war.  But, thoughtful hedging aside, Gerson does think that "the Arab transitions will be better than America's."  Indeed, Mr. Gerson, we can only hope.
But when we look at the struggles housed even within the very same Islamic traditions, whether it be Sunni, Shiite or Wahabisim, among others, never mind the various other religions where we are already seeing religious murders taking place, our cautious optimism is replaced by a certain amount of dogged pessimism based upon an Arab world that often belies American understanding.
We must further note that, even in a Democratic Iraq that was handed a representative democracy nestled upon a silver platter, these same indignant protests are going on there, as well.  Gerson further, and in an unsuspected naivete, indicates that these revolutions were unaided by America, which, according to the UK Telegraph is totally incorrect.  In fact the US conscripted, trained and activated at least one Egyptian agent who helped to eventually bring down the government of Egypt.  This individual was supposedly trained by the State Department.  We are still trying to understand both the  "whys" and the "hows" in which an American Government would seek to topple a regime that represented a linchpin of peace.  Perhaps a question for another time?
But then Gerson gets down to the nitty gritty of his message by seeking to cast aspersions on other Conservatives who choose to look at an Arab world on fire with more of a jaundiced eye than Gerson himself.  In fact, Gerson actually lays into Glenn Beck for "expanding his critique of Islam" utilizing an "exquisite timing" in also bringing up the possibility of a con-joined Caliphate.  Now, maybe Gerson is simply blissfully ignorant of Beck's voice as it has always regarded radical Islam.  However, we should point out to Gerson that Beck has long critiqued Islam to one degree or another, as have any who have even the most remote crumb of discernment skills of  "the predicament we find ourselves in," which Gerson apparently lacks.
To Die For...
Gerson goes on to point out Andrew McCarthy's stance of an Islam that is not now, nor ever will it ever be compatible with Democracy.  Gerson even states that the intensity of McCarthy's view seems to increase as evidence of it contradicted.  McCarthy is a noted expert who has written lengthy studies and books on Islam and actually acted as a US prosecutor against Islamists in US Federal Court.  However, speaking to Gerson's contradiction of McCarthy's evidence, Gerson offers up only rhetoric to support his  leaky argument.
We might suggest that Gerson actually read a few books, or study a bit of history addressing the issue before he expounds upon "facts," which do not exist.  Perhaps Gerson might even check into very recent US Military history in Fort Hood, Texas. Or Gerson could quibblingly limit himself to violent interaction within just America alone to figure out what radical Islam is all about.  I can assure him that US/Islam historical interaction will be ample grounds of evidence in support of McCarthy's views.
In fact, there is a long list of essentially uninterested Mideastern experts who will look you in the eye and swear by all that's holy that Islam cannot reasonably function within a vacuum of Sharia-compliant law.  The religion and its strict fundamentalist traditions and laws bely virtually any attempt at circumnavigating their essence.  Why does not Gerson see that, even here in the secular Democracy that is a liberty-loving America, the problems with Sharia compatibility as it regards Constitutional freedoms has frequently spilled out into the both the public conscience and the court system--even with a meager population of Muslims being 3% at best?
A "Conservative Attack List" From Gerson That Would Make Any Liberal Blush With Pride
Why The Tea Party Is Toxic For The GOP
The Childish Political Thought Of The Tea Party
Christine O'Donnell's Misconceptions Of The Constitution
Will The Tea Party Shift American Foreign Policy?
Suffice it to say that, as with the Tea Party in my case, and as with Islam in McCarthy's case, Gerson might do well to listen and heed the experts whenever he might seek to misinform his readers based upon habitually incomplete and often disingenuously contrived knowledge.  Gerson further even points out that, since 9/11, America has found "Muslim allies willing to die at our side in the fight against radical Islam."  Perhaps that is true, and yet we would err if we did not point out that we have found that same shrouded number to the 5th magnitude of "allies" who have also been willing to die at our side after having just killed us.
You see, one of the problems with radical Islam is its willingness to lay down any and all human life in order to honor their beliefs in such a way that any means ultimately justifies the final ends, which is an avowed commitment to the death of all willing infidels.
But Gerson, in another apparent mind-shifting attack upon the misconstructed barricades of metro-sexual madness, then suggests that "Conservatives," just to "demonstrate some connection to reality, should delay their criticisms of Islam's irredeemable violence" until the "peaceful protests in the mideast draw to a close."
So, do you mean like the "reality" in Libya Michael? That particular protest has become a civil war death match, just in case you hadn't noticed. In fact, were we Conservatives to wait until the protests are over to proffer an honest opinion, like say Obama for instance --unless of course it's a sworn ally--we might indeed, be waiting for years, a decade even Mr. Gerson. Or perhaps you, much like your twin from earlier, would simply prefer all of we Conservatives to simply lie down and shut the hell up.
The Flutter-By Effect of Fractionalism
Revolutions are rarely decided in months or even singular years would be our exact point here. Surely you must be aware of that as well Mr. Gerson? If one were to Please note:
The American Revolution did not effectively end until 1783, a span of at least 7 years
The Russian Revolution essentially began in 1905 and through a series of upstarts ended not until 1917
The Chinese Revolution began in 1946 and did not end until 1950
The French Revolution began 1789 and ended in 1799--the total of these instances resulting in the deaths upwards of 50 million people, the blurry line between protests and conflict rarely if ever having been recognized or even accounted for.
Now, forgive me in advance for making the point that Gerson essentially loses his argument on, but the vast amounts of stored energy that both America and the world requires reside right smack in the in the middle of this revolutionary powderkeg that Gerson is all atwitter over.  So now--who--exactly--is living within un-reality along with the "piss on oil" President and a majority of the Senate, with the all-important--neatly creased trousers--becomes the exact question?
Perhaps, as with all Neo-conservatives, or what I would dis-affectionately, but far more accurately, describe as Con-Swervatives, Gerson has resided within the comfy, cushioned cocoon of Con-swervatism for so long that he has now metamorphosed into the flutter-by of fractionalism that we all knew he could and would become. Indeed, the chrysalises of this sad but effective species lie both forlornly vacated and or, meaningfully occupied, throughout the entire inner beltway and beyond. The consummate Con-swervative sounds, often looks and frequently acts like, his ideological brethren, until such time as it is to late to recognize that the damage has been done, and meaningfully so, such as right now, for instance.
We find ourselves lazily reclining in the hole of a $ 15 trillion dollar deficit arguing over pittance, while the world appears to be slowly dissolving all around us.  The fact that those of Gerson's ilk, being the Republicans in name only, having cleaved into the mass of liberal apologists or compassionate conservatives for the sake of good natured media camaraderie, has actually been lost on few if any of us.
The Moderate Quicksand Of Common Ground
While we would certainly expect the liberals and the Democrats in large part to belong to the club of pay now and ask questions later, it is a club of the clueless with members such as Gerson who have swerved into the camp of these spend-feckless types in order to find "common ground," which is better defined as moderate quick sand these days.
When Gerson ends his self-revealing piece, he seemingly allows us to alarmingly glimpse his missing conservative reflection within a mirror of ideological sophistry.  The fabled beings of mythic fiction, always rooted within a semblance of virtual truth to some degree.  That an individual who could coin the term "heroic conservatism" within a book that he penned, then call out American conservatism as racially sipping from an aged-anglo-saxon cellar of private stock, speaks more of a "hemorrhoidic conservatism" that must needs eventually be surgically repaired, no less.
But, yes indeed it is true, only a feckless conswervative Rino could take the true Conservative's colorblind aspect ratio and purloin it into an Anglo-Saxon cellar of private liberty's vintage.  When Gerson speaks to those who would prefer stability over idealism, he admittedly inclines to the wrongful yet again, so why not try that in another way by application of strategic inversion in order to completely understand Gerson's stance:
The words Hope and Change were in need of a stealthily applied makeover, which Gerson has thoughtfully, if not cluelessly, provided when we clarify Gerson's meaning being--Idealism over stability as optimum--which was the essential hue and cry of Obama's campaign--hope and change we can believe in--alas.
"Perhaps it is natural for a revolutionary power to grow old and cautious, producing thinkers who prefer stability to idealism, but it is sad"~ Michael Gerson
January 24th, 2011
Posted by:
Barry Secrest
Published on January 24th, 2011 @ 05:49:34 pm , using 4206 words
Conservative Refocus
Barry Secrest
"Finally!" Paul Krugman must have obviously thought, "Our opportunity for political mayhem has arrived!"  And with that, much as a whirling dirvish of left-spinning angst, Krugman set to work.  Reportedly, not even two hours after the cruel event had occurred.  Even before the blood on the ground had dried, Krugman along with millions of other pundits and reporters began a twisted Ballet of Blame targeted--not towards a miserably politicized Sheriff's office, nor even an obviously faltering Department of Social Services--but rather at their most hated foes in existence, the Conservatives, along with anyone else who disagrees (short of certain very specific subspecimen).
It can now rather ominously be stated that the Tucson shooting, perpetrated by an obviously demented Jared Loughner, set off an even more demented response from what may casually be noted as "the usual suspects."
The Blame Game, it would seem, had been shotgunned out at not only the titular heads of Conservatism, or the Republican politicians, but to virtually every Conservative in America. Rush Limbaugh, Sean Hannity, Glenn Beck, Grandma and Grandpa--no one was or is safe.  Sarah Palin appeared to be the "Bullseye" of the targeted attack.
An Epic Proportion of Mythic Blame
The shatterpoint of this blamefest, it would seem, is that the innocent followers of these political purveyors of pittance actually appeared to believe what their leaders were pushing.  After glancing through Krugman's 701 comments from readers on his "Climate of Hate" column, it became painfully clear that those who were not criticizing Krugman actually seemed to be in heartfelt agreement with the mythology of his product.
Unfortunately, there is no true way to know if the supporters of Krugman were knowingly smirking when they punched in their gleefully conjoined comments, or like lambs to the philosophical slaughter, were mindlessly echoing his sentiments of revilement.  Either way, this particular instance may come to be known as the final urgent cry of a Socialist political movement gone woefully awry.
The blame which has been metronimically leveled at Free Speechdom's apex-- talk radio, FoxNews and other organizations (not exactly of the Left)--for "purveying violence" had reached what could be called a crescendo of depravity.  The main problem is just this:  None of these individuals or organizations mentioned have ever even hinted at violence, despite a magnitudinal number of attempts by the media to convince individuals otherwise.  In fact, the truth is quite the opposite. Being a fairly regular listener of each of these shows--whenever time permits--in addition to constantly monitoring and reading the product of the Mainstream Media, does offer up a bit of an advantage in my particular case as opposed to the often mind-numbed followers of the Left.
The simple fact that has been proven time and time again in case after misinformed case is that few, if any, of the non-professional Left, quite obviously, ever listen to or watch any of these supposedly "violent right-wing shows."  It appears quite obvious that those of the Left, more often than not, seem to listen and obey without question to what their pundit leaders craft in order to build a resolve against these same shows.  Never actually doing anything more than bovinesuqely grazing past them while plodding through radio channels, the Internet or even cable--it's the only plausible answer that works barring socialized depravity on a continent-wide basis.
The Karma of Krugman's Nausea
Krugman begins his gullibles' travail by stating:
"I've had a sick feeling in the pit of my stomach ever since the final stages of the 2008 campaign."
At this point, it should be noted, we feel compelled to halt our refutative response momentarily so that we might recommend Krugman seek medical care immediately--especially if he has been suffering these serious pains for over two long years now.
Non-stop nausea could be something as simple as gastritis or could indicate conditions of a more serious nature which Krugman should definitely have checked-out--and most especially "prior to" Obamacare swinging into its fully operative mode.
But In fact, while most of us reacted with dazed confusion at the tragedy, Paul Krugman writes that he "had been expecting it."  (Hmm...expecting it or waiting for it?)  In this case, and owing to the rapidity of his "cavalry-like response," we must assume (also) that it was the latter.  In retrospect, it now seems that all officious left-leaners seem to be smitten with the same obsessive compulsive disorder--maddeningly imagining future political disasters or opportunities--dependent upon one's viewpoint.  Then, in a modality of pre-emptive contrivity, lay down either words or 3,000-page bills tailored to make hay out of  extraordinarily bitter occasions, dutifully then drawered "until the time is right."
Krugman further writes that "political hatred" upsurged after Clinton's election, "culminated in the Oklahoma City bombings" and could be seen in the crowds at McCain-Palin rallies.
At this point in Krugman's writing, we cannot help but begin to wonder if the mountains of the "global warming particulate matter currently blanketing the 49 contiguous States" (more commonly referred to as snow) have actually driven the man into being a rabid lunatic of disillusioned denial, such is the cognitive dissonance of his ravings.  Clinton, in fact, moderated into a Centrist that Conservatives and Liberals alike could work with. There was little if any hate aimed at the man, that we can see, beyond the usual political gamesmanship that always occurs within a given Administration (think Bush).  In fact, many even now think of Clinton (somewhat) fondly as one of the most ingratiatingly "entertaining" Presidents we have ever had--despite his many almost clownish ideological flaws and grievous errors.  But the Oklahoma City bombings had little to do with politics and everything to do with revenge.  The bombing was a retaliation by certain individuals due to the Clinton Administration's grisly "extermination by fire" of the Branch Davidian worshipers, this from the perpetrator, Timothy McVeigh, himself.
The National Climate (of Liberal Hatred)
The McCain-Palin rallies contained hatred?  If so, it must have been from the now documented SEIU plants and political operatives of the Left who were trying to incite disfavor by pretending to be Tea Partiers.  The Tea Party rallies have  always been about love of both Country and Creator, of this there is no doubt. Perhaps the Left somehow defines love of God and Country along with patriotism as disagreeably hateful, but here both Lucifer and the Left would seem to find themselves in total wide-ranging fellowship.  We are, indeed, not surprised.
In fact Krugman actually, if not witlessly, brings up a Department of Homeland Security Report that only points to one of the reason's for the Country's disillusionment with the Obama Administration in the first place.  The Department of Homeland Security's document (which was quickly recanted) to which Krugman refers warned of right-wing extremist groups and the potential for violence--which was a bellwether event that forged a collective  Conservative resolve against both Obama and the now-observed ideological excessiveness of his governance.  However, Krugman fails to point out the nadir within the document that identifies right-wing extremists with returning soldiers and people like me and many others who speak to Liberty and individual self-determination.
The report "typically" failed to take into account the fact that virtually every terrorist attack and instance of extreme violence perpetrated had been repeatedly administered by denizens of the Left, to include the authoritarian Jihadists and a now deranged environmentalist wackoism. Krugman goes on to admit that Loughner was mentally unstable but then seems to infer that Loughner's instability could be a result of the "national climate," which might be one of the only times that Krugman speaks to the nation's climate without actually referring to the perils of global warming for a change.
Krugman then notes a report that cited an increase in threats to various members of Congress along with:
"something about the current state of America causing far more disturbed people than before to act out their illness by threatening or actually engaging in political violence."
Further, Krugman incrementally builds our case for us by bringing in Pima County Sheriff Clarence Dupnik's words concerning:  "The vitriolic rhetoric that we hear day in an day out."
Speaking of Vitriolic Rhetoric and A Culture of Political Attack...
Vitriolic rhetoric?  Well, the answer to the question of continuous attacks, threats, aggressive language and "the current state of American incivility" is quite simple and goes straight to the top:
Attackee

WHAT THE PRESIDENT SAID

Chamber of Commerce

Obama attacked and accused the Chamber of Commerce of using foreign money to push its domestic political activism, which would violate election law. Unfortunately, as the Times reports, the White House had absolutely no evidence of any wrongdoing. And Obama failed to mention that plenty of groups on the Left, especially labor unions, raise money outside the US as well.

GOP "Pledge to America"

Obama attacked many current Republican leaders as the architects of failed economic policies during the presidency of his predecessor George W. Bush: "It is grounded in the same worn out philosophy: cut taxes for millionaires and billionaires; cut the rules for Wall Street and the special interests; and cut the middle class loose to fend for itself. That is not a prescription for a better future. It is an echo of a disastrous decade we cannot afford to relive," he said.

http://www.voanews.com/english/news/Obama-Attacks-GOP-Pledge-to-America-103789224.html

Bush Policies

Obama attacked the economic policies of George W. Bush in Bush's home state on as evidence of the way Republicans would operate if given power in Nov. 2 U.S. congressional elections.

He defended his repeated references to Bush's policies, saying they were necessary to remind Americans of the weak economy he inherited from Bush in January 2009.

Fox News

The White House called on other news organizations to isolate and attack Fox News sending out top advisers to rail against the cable channel as a Republican Party mouthpiece.

http://www.foxnews.com/politics/2009/10/19/white-house-urges-networks-disregard-fox-news/

House GOP Leader John Boehner

In a starkly political speech President Obama attacked House Minority Leader John Boehner, R-OH, by name eight times, he alsoattacked the Republican's economic philosophy as flawed and weak, attempting to define the choice that people have in November's election.

Public Education

Obama attacked teachers through his Race to the Top education policies. Already in NY State and many others, Obama got everything he wanted.

The program contains these key elements: Teachers will be evaluated in relation to their students' test scores. Schools that continue to get low test scores will be closed or turned into charter schools or handed over to private management. In low-performing schools, principals will be fired, and all or half of the staff will be fired. States are encouraged to create many more privately managed charter schools.

http://www.huffingtonpost.com/diane-ravitch/obamas-race-to-the-top-wi_b_666598.html

Americans for Prosperity

Obama repeatedly attacked Americans for Prosperity and over 1,500,000 AFP grassroots activists across the nation.

http://americansforprosperity.org/101210-president-obama-attacks-you-and-afp-name#ixzz12Y6wrqCM

US Healthcare

President Obama attacked virtually anyone associated with healthcare, except the Government,  in the biggest attack on a US industry ever perpetrated http://www.nytimes.com/2010/03/24/business/24leonhardt.html

Health Insurance Companies

Obama and his health secretary staged a two-pronged attack in a stern letter to health insurance chief executives and a speech in which the president castigated insurance companies 22 times. "How much higher do premiums have to rise," he demanded, "before we do something about it?"

http://www.washingtonpost.com/wp-dyn/content/article/2010/03/08/AR2010030801703.html

Doctors

Obama attacked how doctors make decisions under the current system instead of doing what's in their patients' best interests: "Right now, doctors a lot of times are forced to make decisions based on the fee payment schedule that's out there. So if they're looking and you come in and you've got a bad sore throat or your child has a bad sore throat or has repeated sore throats, the doctor may look at the reimbursement system and say to himself, 'You know what? I make a lot more money if I take this kid's tonsils out.'"

Cops

Obama answered a question about his friend Henry Louis Gates's run-in with the Cambridge cops, after acknowledging "not having been there and not seeing all the facts," by nonetheless asserting that "the Cambridge police acted stupidly."

http://voices.washingtonpost.com/postpartisan/2009/07/obama_attacks_docs_and_cops.html

Capitalism

Obama attacked capitalism as "blind faith." He said this philosophy of letting people "fend for themselves" has "failed." He added that "people are frustrated, they're anxious, they're scared about the future. [But] now is not the time to quit....We've been through worse.... It took time to free the slaves. It took time for women to get the vote."

Supreme Court

During a State of the Union address , Obama added a few words that had not been in the prepared text. The new preface — "with all due deference to separation of powers" — seemed to acknowledge that he was aiming unusual rhetorical fire at several Supreme Court justices sitting right in front of him.

Congressman Hoekstra

At a grounbreaking of an advanced car battery factory in Holland, Michigan, Obama attacked Republican Rep. Pete Hoekstra (who opposed the stimulus bill and is also a Michigan gubanatorial candidate): "There are some folks who want to go back – who think we should return to the policies that helped to lead to this recession." Obama said later, "Some made the political calculation that it's better to obstruct than lend a hand. They said no to the tax cuts, they said no to small business loans, they said no to clean energy projects. It doesn't stop them from coming to ribbon cuttings — but that's OK."

Sharron Angle

At a Las Vegas, Nevada fundraiser for Majority Leader Sen. Harry Reid's campaign for re-election, the president compared Las Vegas residents to those in the Gulf affected by the BP oil spill – whose livelihoods depend on tourism, and attacked Sharon Angle's stance on the spill, saying her answer was to deregulate the oil industry: "Harry's opponent. . .called the compensation we provided a slush fund," the president said. "A few hours later, her campaign puts out a memo saying 'she didn't say that'… . They said there was some 'confusion'. I'm sure she meant 'slush fund' in the nicest possible way," he quipped.

Israel

Since the Obama administration has issued stern condemnations of Israel (a long-time US allie) for approving the construction of new settlements in Jerusalem, Secretary of State Hillary Clinton has attacked settlement activity "an insult to the United States," and White House political chief David Axelrod referred to it as "an affront." Israel's Ambassador to the U.S., Michael Oren, reports that current U.S.-Israeli relations are at a 35-year low.

Tea Party

According to the New York Times, President Obama's political advisers are considering a national ad campaign attack that will attempt to convince Americans that Tea Party "radicals" are "taking over" the Republican Party.

Big Oil, etc.

In a series of fundraising speeches for Democratic candidates, Obama attacked both Business adn the Supreme Court repeatedly. He stated that because of Citizens United, "there are groups with harmless-sounding names like Americans for Prosperity who are running millions of dollars of ads against Democratic candidates, and they don't have to say who exactly the Americans for Prosperity are. You don't know if it's a foreign-controlled corporation. You don't know if it's a big oil company or a big bank." Unfortunately for him, the president's attack gets both the facts and the law wrong

http://americansforprosperity.org/100110-tim-phillips-washington-times-obamas-ironic-attack-free-speech#ixzz12YFHzmoA

BP

President Obama launched a ferocious attack on BP and the oil industry as what is now officially the worst spill in US history threatened to derail his presidency. Obama cancelled or suspended dozens of offshore drilling projects and condemned a "scandalously close relationship" between oil companies and government regulators. He said: "As far as I'm concerned, BP is responsible for this horrific disaster, and we will hold them fully accountable on behalf of the United States as well as the people and communities victimised by this tragedy. We will demand that they pay every dime they owe for the damage they've done and the painful losses that they've caused."

State of Arizona

Obama attacked America by suing Arizona for passing a law that merely reflected federal immigration law. Then the Obama administration included the Arizona state immigration law in a report of human rights abuses to the UN, that collective negation of humanity and home to the worst human rights abusers in the world.

Coal Industry

In an attack on American energy producers, Obama said that he would put a new "cap and trade system in place that is as aggressive, if not more aggressive, than anybody else's out there" if he would become president. Every single person who would want to "build a coal-powered plant" would be able to do so, Obama said, but his new system would "bankrupt them."

Karl Rove

President Obama attacked Karl Rove and conservative outside organizations claiming that his group and the Chamber of Commerce were bending campaign finance laws.

Scott Brown

Obama actually attacked Scott Brown's choice of a GMC truck: "So look, forget the ads, everybody can't can slick ads. Forget the truck. Everyone can buy a truck."

Scott Brown later retaliated by saying that, no, in this economy, not everyone can buy a truck, but that he intended to have a hand in changing that.

Rush Limbaugh

Obama attacked a public citizen and warned Republicans on Capitol Hill that they needed to quit listening to Rush Limbaugh if they wanted to get along with Democrats and the new administration. "You can't just listen to Rush Limbaugh and get things done," he told top GOP leaders, whom he had invited to the White House to discuss his nearly $1 trillion stimulus package. (

link to New York Post story

)

Veterans

Obama and his administration considered attacking Veterans use private health care to get treatment for their service-related injuries. Obama discussed the issue with Veteran's groups, declining to remove the proposal from the table as the veterans groups were pleading for.

"Bitter Clingers"

Obama attacked two former Presidents and then attacked a large protion of America and said "the jobs have been gone now for 25 years" in a lot of small towns. They fell through the Clinton administration and the Bush administration, and each successive administration has said that somehow these communities are gonna regenerate. And they have not." "And," he concluded, "it's not surprising then that they get bitter, they cling to guns or religion or antipathy toward people who aren't like them or anti-immigrant sentiment or anti-trade sentiment as a way to explain their frustrations."

http://www.nydailynews.com/news/politics/2008/04/12/2008-04-12_obama_some_pennsylvanians_bitter.html#ixzz12YTpsqxn

Christians
Banks

In an attack on Banks,Obama revealed a plan to tax the largest banks in America to recoup up to $120 billion of the bailout money doled out over the past year. Catching banking lobbyists flatfooted, the proposal from out of left field is set to hit Congress next month. Most likely, it will be a tax on profits much like the windfall profits tax bandied about during the oil run-up a couple years ago. Alternately, it could be a tax on the loan activity of the largest banks. At a time when banks are being encouraged to loan money to small business, banks are also being scolded by the President for doing so.

http://www.wallstreetoasis.com/blog/obama-finally-attacks-the-banks

Bill Clinton

During his campaign, Obama attacked Bill Clinton by noting that America's unfolding credit crisis on the financial deregulation of the 1990s in his hardest hitting attack so far on the economic legacy of Bill Clinton's administration.




* List of Obama attacks painstakingly Compiled by Kim Stallings, Conservative Refocus. This list was a mere pittance from the huge number that Kim actually found.

While many Conservatives and otherwise wondered why the President failed to tackle the question of incivility, partisan attacks, and a general rudeness within the Country's Battleground of Ideas being dishonored, the answer, to us, seemed quite obvious.  Obama knowingly risked a severe backlash from both sides by attacking any group simply because, as we have stated many times before, President Obama is the Attacker-In-Chief and has set the tone for the conversation.
The Conscience of A Conservative
So while Krugman witlessly muddled about in his efforts to cast aspersions on the greatest majority of the nation's  people, that being Conservative Americans, Krugman leaves out the affirmed leader of the Liberal movement's aggressive angst over the past two years.  However, unlike Krugman and a large proportion of his ideological associates, it would be difficult to for me and most Conservatives to lay blame for a madman's attack at Obama's, Krugman's or anyone else's feet, at least with a straight face (or a clear conscience).
This despite the fact that Loughner was described by one friend as a "lonely left-winger." And certainly we should "never mind" that Loughner's favorite books such as "The Communist Manifesto"--a book promoting the extreme Left, "The Republic"--a tome which speaks of  "wisened ruler elites" and even "Mein Kampf" which was written by a murderous member of Germany's "National Socialist Party," certainly has nothing to do with the Left now, does it?
Nor does Krugman's urgent response column, which quickly jumped to a murderous Conservative conclusion before any of the facts were available:  i.e. the guy was white and he tried to kill a Democrat, Ka-Ching!  He simply had to have been a Conservative, Krugman must have thought. However, Krugman's response, along with virtually the entire Mainstream Media's was altogether different between Fort Hood and Tucson. Gee, wonder why? Perhaps it was because the Fort Hood shooter's "exotic" name and identity quickly surfaced and obviously outed the man as a militant Muslim. The refrain then was one of "not rushing to judgement" in order to, no doubt, not upset the standing of the liberal's religious darlings du jour.  In fact Krugman, Frank Rich and a number of other liberal opinion-making "elites" reportedly abstained from writing anything for eight entire days with regard to the  Fort Hood shooting..."Well, isn't that special?"
Krugman goes on to point out:  "the nature of our sickness," which speaks to (non-existent) right-wing calls for violence, unless he is actually referring to both he and his associates' state of mind, which seems infinitely more plausible in this case especially.  In fact, Mr. Krugman, the Leftists have been well-documented in a general call to violence as recorded quite ably in Michelle Malkin's recent column, among many, many others. Truthfully, I have often mused that the fun thing about refuting Paul Krugman's ideas is that the act rarely requires copious amounts of "grey matter torque," but rather-- it's more about style and horsepower.
Armed and Dangerous... With Lies and Untruths
At any rate, from here Krugman goes on to detail his nemesis in primacy, Rush Limbaugh, by pointing out "eliminationists rhetoric found within the airwaves" as being what leads to a rising tide of violence. To this we can say that Rush Limbaugh may say and be many things, however the only eliminationist rhetoric he expounds is one of defeating the Left at the ballot box, and it is simply that simple. Krugman then makes what amounted to a severe "journalistically contrived error"  by stating:  "Rep. Michelle Bachmann urged her constituents to be "armed and dangerous."
In fact, Bachmann has never urged her constituents to be "armed and dangerous," but rather Bachmann was referring to her constituents being "armed and dangerous with the facts," which has even been affirmed by the New York Times editors to the website Newsbusters. Newsbusters officially notified the Times that Krugman had "mis-stated" what Bachmann had said in efforts to "manufacture" violent language from an elected leader of the Right, which prompted the NY Times to respond in an affirmation to the complaint.
Quite frankly, herein lies the rub with both Krugman and the Mainstream Media in general.  The only substantive statement of violence, which they can directly refer to among leaders of the Right, has been confirmed by Krugman's NY Times publisher as being a LIE.  Further, Krugman can certainly allude to  O'Riley, Beck and Rush as being proponents of violence, and yet can offer little if any substantiated facts in that regard unless artfully created via edit.
So, "Where's the link and where's your source material," Mr. Krugman?  You speak volumes of mere opinion and yet, unlike within this column, you never seem to back up your assertions.  Faith we can believe in, no doubt.  And yet, throughout this column and hosts of others, you will find links to verifiable sources peppered throughout. In fact, Krugman provides us with one source link within his article which simply yields up a previous opinion column as if that should be proof enough.  No more, Mr. Krugman; your particular game, in that regard, is now up, Sir.
It should also be pointed out that the main title of Krugman's cozy corner at the NY Times, wistfully titled "The Conscience of A Liberal," has literally taken on a whole new meaning to us all after Krugman's "Climate of Hate" column. The word conscience speaking to a specific and existential lack-thereof, and the second title,  "Climate of Hate" speaking to a  Freudianesque reverse-echo that continually devolves from his own personal environment of rhetorical flatulence--perhaps that's where the sick feeling in the pit of your stomach emanates.
Krugman concludes, by rather piously stating:
"Arizona should promote some real soul-searching, it could prove to be a turning point.  If it doesn't, Saturday's atrocity could be just the beginning."
Our response, in turn-about, becomes quite simple:  "Indeed Mr. Krugman."  Soul-searching is always a good thing; however, we should note that your statement makes the rather bold assumption that the Media  has not yet sold its soul, if it ever had one.