Democratic National Committee Spokeswoman Cluelessly Trashes Women Working at Home (Video)
April 12th, 2012
Posted by:
Barry Secrest
Published on April 12th, 2012 @ 08:59:59 am , using 250 words
Conservative Refocus
Barry Secrest
When you listen carefully to Hilary Rosen, a lead advisor for the Democrats,  she states that Ann Romney "Hasn't worked a day in her life" and this pretty much emulates the way that both Obama and the Democrats feel about women who work at home raising families, in general, unless, of course, they are on the government dole, one supposes.
However, what Rosen forgets is simply that Ms. Romney is the mother of (5) read that "Five" children!  Does Rosen have any idea how much energy it takes to raise one, much less five children? Nor does Rosen speak to the disease that Ms. Romney has to deal with on a daily basis, a very tough disease, at that.
But Mrs. Romney is a Conservative Lady, therefore making any sort of emotionally typical connection that Liberals routinely make for political advantage, non-sequitor, in such cases.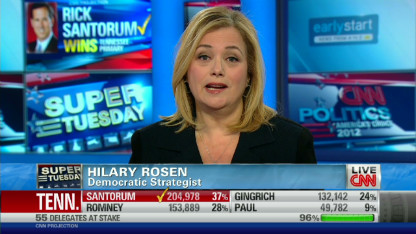 Rosen also speaks to a "disconnect" between Romney and the American people, and yet totally forgets the actual difficulties involved in raising family, as if t'is no work at all, for a stay at home Mom.
However, this ladies and gentlemen, is the party we are up against, so miraculously clueless and devoid of common sense,  that they will trash  stay at home momma's, who are making a considerable future investment within the human race itself, rather than one terribly smallish investment in an authoritarian leader who has succeeded at nothing more than mangling this nation, which apparently is Rosen's main cause.
Permalink