Conservative Refocus Week in Review for June 3rd: From Radio to Bilderberg, with Zombies and Bigfoot in Between
June 3rd, 2012
Posted by:
Barry Secrest
Published on June 3rd, 2012 @ 07:30:04 pm , using 2627 words
Conservative Refocus Week in Review
By Barry Secrest
This past week saw a couple of radio interviews in order to ply some uncommonly strong  Conservative opinion across the airwaves, while still maintaining a certain Republican sort of order. Most of the establishment types are not extraordinarily fond of me, it often seems, I should point out, so I tend to opine as conservatively as possible when on the air, no pun intended.
However, first up was the Matthew Brower Show, where we discussed  my book, "A Perfect Liberal Storm," as well as a number of other hot political issues.  Next up was an interview by Randall Stufflebeam--"The Constitutional Evangelist"--on Constitutionally Correct Radio. Both were great fun, while also convincing me to never listen to my own interviews. I suppose it's kind of like looking at your own picture, where most of us tend to be our own worst critics, unless we are narcissitically inclined, sort of like El magnifico, I should add.
Then, on Tuesday, we once again noted that the backend of this website was maddeningly spinning, while not allowing us in to post various updates due to the  traffic overwhelming the site. This typically happens when a new article is posted in the Main section.  We then decided to make the rather costly decision to expand the size and bandwidth associated with our Virtual Private Server, which is  hosted by the unequaled in quality Hostgator website. Now the site boasts a 2.69 GHZ CPU with 1824 MB of RAM, 80 GB of disk space and a bandwidth of 1425 GB; it's the fifth time in three years that we have expanded the site, but if you would like to help out, please purchase a copy of the book, no gimmee's here.
While in the process of investing heavily in the site, I doubled down and added a truck which would fit the family in, which just so happened to be in the showroom and was, in truth, the only one outfitted just the way I wanted, except it wasn't black, but then there was an odd twist....
The accidental "CR Longhorn Ram," equipped with CR eagle's head tag in front, by the way...
When I finally drove up at the office, I was quickly congratulated by Professor Kim, the webmaster and editor, for having purchased a vehicle which was accidentally color-coded to the same exact detail as this website, Molten Red with gold trim, go figure, I kid you not.
Subliminal?  Who knows....but might as well.
Up next was a story written by this humble writer in the news section concerning good ole' Wolf Blitzer from CNN and our blitzing of his interview with the Trumpster. In the article,we take a hard look at Wolf's surprising lack of knowledge, or veracity, when he stated the following:
"Wolf Blitzer Quote: The Governor of Hawaii is not a Democrat but rather a Republican"
We said : "Say What?! " and proceeded to explain that, in this CNN clip, we can see an almost panicked Wolf Blitzer continually remonstrate Donald Trump over the birther issue and how the Trumpster was completely wrong in his numerous assertions concerning Obama's fraudulent birth certificate:
However, what was most fascinating was how, during the CNN piece, Blitzer seemed as if he might suddenly burst into tears at any male menopausal moment, while Trump was having nothing of Blitzer's two--(2) (count them)--trademarked points, which spoke to why Trump was completely wrong.
So, what were the two points?
The first was that the state of Hawaii actually certified the birth certificate.  As Blitzer continually repeated this point, CNN would comically float an image, NOT of Obama's fraudulent certificate, but rather the much ballyhooed "certificate of live birth,"  which is about as useless as chicken poop on a pump handle in most circles. But float the image CNN did, all over the screen, as if to repeatedly admonish everyone, "see, this is it, FROM NUMEROUS POSITIONS, now shut-up!" Apparently, if we see the image float around on our screens enough we' ll begin to believe in it, kind of like a really cool "Ghost Hunters" episode of a full body apparition seen from several different camera angles.
Which, come to think of it....
At any rate, it gets better, of course, because during the heat of the argument, Blitzer began harassing Trump because of the fact that Hawaii's Governor, Neil Abercrombie, certified the birth certificate as being authentic, and Abercrombie is a "Republican," said Blitzer, and Blitzer, my friends is quite obviously wrong on this point.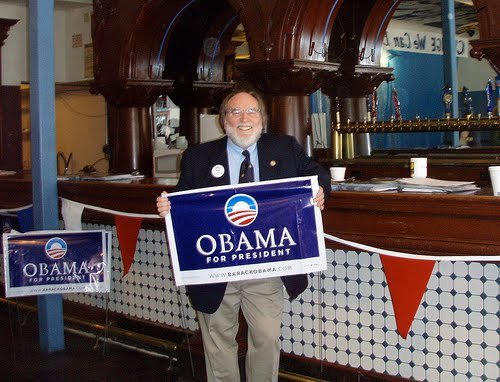 In fact, Neil Abercrombie, the Hawaiian Governor, is not only a hard-wired Liberal Democrat, but he is also a friend of the Obama family, even claiming to having been present at the time of Obama's birth in Hawaii. So, Blitzer, being the well-polished news anchor that he is, needs to stick to his teleprompter, it would seem.
But then there was point number two, in which Blitzer's most pressing proof was the fact that there were two ads announcing the Messiah's birth in two newspapers at the same time in Hawaii....so this is the most compelling evidence you guys have? Wasn't there a star as well in the east? All of this, even when we have numerous accounts of Obama and Michelle stating he was born in Kenya, or even a publishing masthead indicating Obama's Kenyan birth?
The nexus of the entire exchange was how forcefully Blitzer was arguing on behalf of the President; however, as if he were the defacto defender of the President and his storied birth certificate. That, in and of itself, is really all most people need to see in order to powerfully set them to wondering about Obama's true origins.
We ended with the question: "If it's so ridiculous, why does the Media keep forcefully pressing the argument?"
Next up was a widely read article we found on the web where, apparently,  Huffington Post took extreme issue with Fox News on the airing of the following video, which was later removed by Fox:
In fact, many, including Conservative Ed Morrisey of Hotair,  in addition to virtually all of the Axis Press, took issue with this video as "way too partisan."
But was it really?
Initially, the Fourth Estate (which is the press for you Liberal pinheads out there) was established to both question power and to hold government accountable, certainly not to enable and encourage those within the halls of power to "take it to the limit" as most of the mainstream seems to do today.
So, while I would prefer a media which is centered in all things, I think this piece actually holds up the traditions of the media as originally intended by the Founding Fathers. But then there is one other thing that I would point out, with a special and pointed nod to Ed Morrisey and the entire Axis Press in the US.
Were the current paradigm of patently ridiculous sycophantic reporting not being done on a minute by minute basis, then this piece may, indeed, be a bit too much. But in the scheme of reporting what all of us have seen? No, this is nothing more than a brilliantly conceived balancing act for the rest of a heartily skewed and ridiculously slanted Fourth Estate.
Remember, the balancing function that nature always seeks, as continually witnessed by us all, quite oddly also assumes that we humans, including our thought processes, are the only entities that aren't natural that also exist on the planet.
When in fact, nothing could be further from the truth, which would largely explain that dastardly Fox News Producer's reasoning for running this in the first place.
By the way, the ultimate question in all of this would have to be, "Was the piece accurate?"  If it was, ipso facto, making the report all true, then where, dear friends, is the actual foul?
Therefore, no mystery nor problem here for this piece, "Mr. Ed" and all the other pitiful excuses for media functionaries; it's simply nature's own complex way of running Her own balancing course, through our thoughtful expression, which was not to wait very long at  all, as it turns out, when we caught this piece concerning Obama's "John Edward's style grooming issues." Remember, he is the Narcissist-in-Chief. So, in an article titled, "The Edwardian" Obama: From Attacks on Catholic Church to Barber Flown In Bi-Weekly," we enumerated our thoughts on the President's rather extreme attempts to keep his "Do" in place.
We watched ruefully as we saw Liberal John Edwards, foppishly, if not effeminately, groom himself in front of a camera prepping for an on-air interview. However, in sharp contrast, we watched in great alarm as Obama attacked the Catholic Church on the basis of, somehow, defending women, when in fact, if anything, mandated birth control is an affectation designed to protect men from those bothersome child support payments.
Now we have ignominious news that Barack, the former choom slayer, flies his personal barber in to the White House bi-weekly for a bit of upper Chicago-style barbering.
So, how does this make Obama Edwardian?
The Edwardian era refers to a time in the early 1900's where an elite lifestyle, focusing on the values of Socialism, foppish dressing, precise grooming and high-ended entertaining, was the rule rather than the exception.  For instance, remember those elegant themes in the blockbuster movie "Titanic?"  That was the Edwardian period, well, at least before it hit an iceberg and WWI started up a few years later.
But, whenever in history the values and designs of Socialism and collectivism become heightened, we also seem to see a lessening in the values of the Church and its influence. In essence, whenever the State becomes heightened within its Statist structures, we typically see a lessening in the overall influence of the Church. This observation dovetails quite efficiently when you look at super-state governments, such as Russia and China, just to name two.
In addition, and in this particular case, Edwardian, as in John Edwards, also refers to Obama's affectations to his own rather extreme personal grooming requirements. Indeed, remember also what Vice-President Biden stated of Obama, in a singular insult to African-Americans everywhere:
"I mean, you got the first mainstream African-American who is articulate and bright and clean and a nice-looking guy," Biden said. "I mean, that's a storybook, man."
Just as "only Nixon could go to China,"  only an adored Liberal Democrat could have gotten away with that particular quote without completely resigning from everything....
Below is the story from Fox Nation:
Reports have surfaced that President Barack Obama is very loyal to his barber. The President is a man of the common people, the report tells its listeners. He hangs out with regular folks, like his barber for example.  The President has been using the same Chicago based barber, who goes by the name Zariff, for the past 17 years.

According to German Public Radio, the President flies Zariff from Chicago to DC for a trim every two weeks.  The president allegedly personally funds these trips. President Obama obviously also does not care much about the massive carbon footprint his haircuts are leaving on our planet which, we are told, is tipping precariously.

The German NDR reporter says: 'The barber never says a word about what they discuss. Perhaps that's also a reason why Obama feels comfortable being around him. Otherwise he would not fly his barber in from Chicago to Washington every ten to 14 days.'
But the fun we were having, in the face of a rather difficult week-- all over the place -- was not yet done, because a photo which was sent to us by one of our group members cued us into the Bilderberg conference being held just 20 miles outside of the inner-beltway:

The attendees for the 2012 annual Bilderberg conference reads like a list of Who's Who among the Globalist sects.  The Westfield Marriot, which is the hotel where the conference is being held in Chantilly, Virginia, severely tightened security to the point of even uninviting all guests not attending  the meeting until the conference has concluded, while even paying for ejected guests' rooms at other area hotels.
Most noted from the US in attendance?
How about  extraordinarily liberal Senator John Kerry,(D) from Massachusetts, who appears to be the only elected member of the US Federal Government in attendance, duly noted his extreme Leftist stance and wealth. But let's not leave out Indiana Governor Mitch Daniels, also attending, one supposes, for a little Right-Wing establishment class flavoring; you know, a few nuts on the top always serves to bring out the savoriness, while simultaneously attracting attention away from the other ingredients.
Here, Daniels discusses several items of a singularly private nature....
But, also from the US, there's the somewhat surprising presence of Columnist and Wall Street Journal contributor Peggy Noonan, (Rut-Roh) along with  writer/Middle Eastern Professor, Fouad Ajami. From the US government, itself, is Keith Alexander, who is Directorof the National Security Agency and head of  US Cyber Command, and Donilon Thomas, who is the White House National Security Advisor.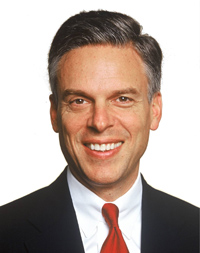 Not to be missed are the presence of former Congressional long-timer Richard Gephart, LinkedIn's Reid Hoffman, and even former Presidential candidate, Jon Huntsman, Jr., who runs dear old Dad's cancer foundation. Perennial attendee Henry Kissinger and Journalist Charlie Rose are also attending, along with the requisite US industry leaders from Google, Microsoft, Alcoa and numerous other investment industry and environmental groups.
So, who gets invited to these meetings? It would appear to be those wielding significant influence among their industry or government associates, for starters. According to the website's press releases, the meeting comprises:
Approximately 145 participants will attend of whom about two-thirds come from Europe and the balance from North America and other countries. About one-third is from government and politics, and two-thirds are from finance, industry, labor, education, and communications. The meeting is private in order to encourage frank and open discussion.
But it obviously doesn't hurt to be fabulously wealthy either. However, what is the purpose of these meetings which sets conspiracy theorists to vibrating uncontrollably? Mainly to meet and address critical issues that concern European and North American interests, to include challenges associated with economics, energy, public policy, foreign affairs, trade, and monetary policy.
Basically, a smorgasbored of international interests; which is probably about as ultimately effective as teets on a boar hog, well, unless we factor in the DUMB Bases.....maybe for another time. Oh, and if you would like to see the full list, please click here.
But then, there was this fantastic story which rivetted us all with regard to a face-eating zombie or somesuch down in Florida, along with a host of others:
Global warming, is at its euphemistic height, according to Liberal Academia; which, I suppose, is why it's a frigid 59 degrees in Southern North Carolina on June the 2nd?
~BLS
Recently from Barry Secrest
Permalink