Lies The Media Has Told You
June 18th, 2012
Posted by:
Barry Secrest
Published on June 18th, 2012 @ 05:56:45 pm , using 3555 words
Conservative Refocus
By Barry Secrest
As a Conservative, you know things have gotten excruciatingly bad when you find yourself rolling your eyes while simultaneously in the act of opening up your local Sunday paper for the most entertainingly slanted segment of the day. Yet this is, approximately, where we are as a nation today, or at least at this period in our history, and not just on Sundays.
In fact, when we look back on the Bush years, it was the media apparatchiks who were questioning virtually every Presidential decision, reporting every verbal flub, publishing baboon and monkey photos with Bush's face, even often manufacturing stories concerning the former President's  life in a transparently heroic effort to "hold power to account." So, what exactly happened to those people, anyway, or better, where did they disappear to? Now, we have nothing if not an hysterical mass of propaganda-spouting cheerleaders leaping around on the sidelines, mostly speaking to an affectionate fealty for Obama and the Leftists in charge in cheer after cheer.
The question then naturally becomes: Can this national media failure be altered back to a more centered political media vision  at some point?
The answer to this question can only be "perhaps," but it will take a burgeoning societal disenchantment with the status quo mainstream media, plus continued growth among center-Right broadcasters and outlets, and, of course, continually declining revenue streams for certain hard-Leftist instruments such as the NY Times, in order to effect "Change that America can begin to believe in," especially regarding the  Fourth Estate.
We can see this particular issue driven home, over and over again, on any given day, be it on network news, most news magazines, and certainly on shows such as fellow Left-Winging North Carolinian, Charlie Rose's show, where he recently asked what could only be considered an hysterically slanted question on his show, which is largely dedicated to Elitist, Left-wing personalities.
In Rose's interview with John Heilimann, who is an MSNBC analyst, author, and an editor for New York Magazine, Rose actually asks this ridiculously Obamaphobic question:
Charlie Rose: "On the Republican side, what is it about the President that seems to make them so passionate to defeat him?"

John Heilimann: "Man, you know Charlie, I prefer two false questions and that's kinda like a PHD dissertation style question. You know there is a, uh, there is a, um, part of the Republican Party, the Conservative, far Conservative aspect of it that , you know, who have hated the President, with a really raw intensity since the day he walked into office. And, you know, people have a lot of theories about it.

"You know, some people put race in that category as part of a motivating factor for some number of Republican voters. Certainly the "Birther thing", seems to be at least to me, partly driven due to racial animus."

"You know, this notion of Obama as a Socialist, um, that he is a Chicago school, Saul Alinksy. There's all these associations that a lot of the Right have with various kinds of Left-Wing bogies"
Really, John? As if the entire Left, to include the Axis Press, was not passionately motivated to defeat George Bush and the Republicans during the prior two terms with a verifiably raw intensity? Indeed, while the question from Charlie, itself, was beyond imbecilic at best, Heilimann's answer defies any sort of truly quantifiable logic.
Fact is, Obama's Saul Alinksy ties and work as a Community Organizer are very well known and inordinately publicized, but largely outside of the mainstream media circles, it should be noted. In addition, Obama's disdain of Capitalism, proft and business in general, are legendarily scripted with a bread crumb trail of quotes, economic indicators, and even repeated charges by Obama and his Marxist helpers, all the way down the Obama timeline.
In fact, by the timbre and tone of Heilimann's answer, the man already knows why the Right-wing of American politics has had enough of President Obama. If anything, the President's race would seem to serve as a sort of insulating armor for Obama, in that many establishment-type Politico's and journalists are afraid to attack the President simply because of these paralyzing Liberal talking point-charges and the racist brush that's habitually being brandished as a shield.
Conservatives Are Stupid....Really?
However, this sort of Left-Wing tripe being spewed by these quasi-retarded Media pro's, such as Heilimann, are  precisely what most Americans find extraordinarily objectionable, at the very least. Yet these declarations of simplistically ridiculous summations by these journalists speak largely to the strikingly un-intellectual media elites who often think of themselves as being the smartest people in the room. Incidentally, that bit of rambling, ill-constructed, "you know" oratory by Heilimann, scores a Flesch-Kincaid readability index (grade level) score of 14, (two years of college) with a reading ease of 42, believe it or not.  Higher than it should be, and yet well far below the grade of 20 or better, which would denote the "Doctoral dissertation" that the bloviating Heilimann unwisely addresses.
To explain further on this Flesch-Kincaid scale, there was recently a story in the Media concerning Congressional dummies, aimed largely at Republicans, go figure, which pointed to a screaming lack of educational skills, as billed by this same Flesch-Kincaid scale, which is a tool for writers and publishers in order to better understand how technical and readable a particular written piece is. In the story, the writer meticulously placed a Republican at the top and a large number of Republicans at the bottom, with several mixed in between, in order to tell us all how stupid we actually are:
How members of Congress rank by grade level
A recent analysis by the Sunlight Foundation assigned grade levels to all 535 members of Congress based on their House and Senate speeches since 1996. The method equates simple words and short sentences with low grade levels. Here are the five lawmakers with the highest grade levels and the five with the lowest, along with other key ratings for comparison:

U.S. Constitution (college master's student, grade 17.8)
Rep. Dan Lungren, R-Calif. (college senior, grade 16)
Declaration of Independence (college junior, grade 15.1)
Rep. Lucille Roybal-Allard, D-Calif. (college junior, grade 14.9)
Rep. Jim Gerlach, R-Pa. (college sophomore, grade 14.2)
Rep. Tom Petri, R-Wis. (college sophomore, grade 14.2)
Sen. Daniel Akaka, D-Hawaii (college sophomore, grade 14.2)
Typical newspaper article (high school graduate, grade 12.5)
Lincoln's Gettysburg Address (grade 11.2)
Average member of Congress (grade 10.6)
Martin Luther King's "I Have a Dream" speech (grade 9.4)
Average American (grade 8.5)
President Barack Obama's 2012 State of the Union speech (grade 8.4)
Rep. Tim Griffin, R-Ark. (grade 8.1)
Rep. Sean Duffy, R-Wis. (grade 8.1)
Sen. Rand Paul, R-Ky. (grade 8)
Rep. Rob Woodall, R-Ga. (grade 8)
Rep. Mick Mulvaney, R-S.C. (grade 7.9)
Ironically, in checking the Flesch-Kincaid level for the article itself, which intricately details the flawed Republicans, we found a grade level barely at 12, meaning "still in High School" for James Rosen, the grade-school educated writer. Oh, and for those of you left-wing smart-asses out there who might decide to grade this piece by me or any of the numerous others of mine in the past, you probably don't want to go there, as you will be sorely disappointed, as well as not a little bit "chagrined," it should be noted....
"Rut-Roh"--looks like the elites have a bit of catching up to do on the advanced reading levels...in other words, Conservative Refocus readers are about 25- to 30% more advanced than these two liberal media icons....based on the content they are reading; ya' gotta love it...folks
At any rate, has America been relegated to the standpoint of  only getting the mainstream media's information stream in its truest form as  a result of being heavily reformulated with Conservative commentary, as from Rush Limbaugh, Cyber News Service (CNS), Media Research Center (MRC) and many others in the Conservative media?
That, it would seem, is the million dollar question.
The simple fact that an entirely new media industry has been built on the detritus of Mainstream flatulence, is a fact that consistently gets left out by our slanted journalistic propagandists. Truthfully, the Media information stream has reached what can only be described as an epic level of civic misdirection these days, so much so, that vast segments of the population have grown weary at mentally winnowing opinion from the actual report, even while thousands of journalists now seem to specialize in spouting doctored dogma rather than politically centered reporting.
The Axis Press does get it right, just close enough, on numerous occasions, granted, but the problem lies in being able to divine when your intrepid reporter is spouting news and blending facts that have not been warped in the liberal continuum that we euphemistically refer to as the Mainstream Media, and when these same reporters are not. It has grown so terribly bad that a perfect example of this point is, in fact, Fox News. Now, many is the time that numerous of my own Conservative associates and friends will become angry and vehemently denounce Fox News for seemingly taking a Leftward stance in a particular news article, when in fact, they are taking the centered view.
Granted, many of our Liberal antagonists will laugh and gleefully point the finger at what might seem a skewed view, to them, of Fox News, even while they point to Left-Wing mouthpieces, such as the nightly network news organizations, and glowingly repeat talking points as retrofitted by none other than propaganda specialists organizations like Media Matters, no less.
So, in making the point concrete, here are but a few examples from the Mainstream Media that are actually nothing more than Leftist dogma recast as "politically centered" news:
Lie #1) America's faulty Heathcare system mandated the need for Obamacare
In a world that has, in large part, been dedicated to socialized medicine, there was one medical system that had always been head and shoulders above the rest. One of the few remaining private systems in the world, the United States' private healthcare system had been repeatedly lauded, the world over, as being cutting edge in both technology and quality of doctors.
But that was before.
Despite the largely unheralded by the Media US Healthcare mammoth, both of the last two Democratic Administrations, of the last twenty years, have tried to gain a statist foothold beyond America's already enormous footprint of medicare and medicaid.
Enter the failed Hillarycare impetus of the 1990's and the unfortunate passage of Obamacare in 2010. Ironically, despite a latent Obamacare's not yet having been fully implemented, America can already see the debilitating effects of  statist-controlled healthcare making its infectious presence known, as small-town doctors and services can already see their industry withering on the vine of unfunded malnourishment.
The below Conservative Refocus chart from 2009 tells the story better than any medically dismissive news article from 2009 and 2010, which mostly blasted the America healthcare system as antique and in Obama's favor:
Comparison in Healthcare Quality of the Top (5) Most Populated Countries
| | | | | |
| --- | --- | --- | --- | --- |
| Quality Rank | Country | Population | Life Expectancy | Total Population Rank |
| #1 | The United States | 303,825,000 | 78.2 | #3 |
| #2 | China | 1,330,040,000 | 73.18 | #1 |
| #3 | Brazil | 196,343,000 | 72.4 | #5 |
| #4 | Indonesia | 237,512,000 | 70.7 | #4 |
| #5 | India | 1,148,000,000 | 64.7 | #2 |
Despite these facts, the media and the Left, albeit at least temporarily, won that particular battle; however, it's only one of many, as we take a hard look at another damaging sector of the economy, namely, our debt and spending:
Lie #2) Which leader is actually the most prolific spender in US history?
No, Ladies and Gentlemen, it isn't Ronald Reagan, as the ridiculously deceitful chart above tries to artfully depict.  No matter what the media at large will incipiently repeat, in an effort to attain believability, it's none other than our Marxist/Cloward-Piven President, Barack Hussein Obama,II who has spent, not only more than any other US leader in history, but even worse, more than any other world leader in the history of mankind.
The Deficit to National Debt chart tells the unadulterated truth:
Those twin towers depicted above for years 2009 and 2010, they tell the real story. And, who was President during 2009 and 2010? El Magnifico, my friends, President Obama, himself, nevermind 2011....
Which brings us to the next big lie repeatedly told by the media....
Lie #3) Increasing taxes maximizes revenue, while decreasing taxes lowers revenue
The statists in academia and government fail, virtually every single time, and rather pathetically, in taking into account the dynamics involved in making public policy changes. In fact, the Law of Unintended Consequences never seems to find its way into Leftist equations, simply because that particular law is only adhered to by those in the Right.
So, why is that anyway?
Would an increase in taxes help balance the budget, or should we retool our taxes according to the Laffer curve, which states that a tax that actually yields meaningful revenue must be fair and intricately balanced in order to achieve maximum income potential?
Not sure about that, huh?
Check out the next chart, with which we have repeatedly slapped adorably left-leaning economist Paul Krugman in the face :
Now, one might kindly note the drastic increase in US income, beginning in 2004, as a result of the  2004 Bush tax cuts. See the spike from 2004 through 2008?  Now, remember, Bush left office in 2008, which tails almost precisely with the effects of Obama's increased regulatory atmosphere, the threat of expiring the Bush tax cuts, a mammoth recession due to the meltdown, Obamacare, stimulus, etc.  Please note how revenue markedly decreases after 2008, oh, and by the way, see the down turn beginning in 2000?
That downturn was from the Clinton era tax increases.
Any questions?
Next lie? How about this Titanic Preverication:
Lie #4) There is no bias in the Media
How many times have we seen this laughable lie repeatedly dissembled on program after program in the Axis Press, and why do they even bother?
Indeed, according to public perception, Pew finds a notable difference in the media of 1985 and the media of today.  Gee, wonder why that is?
However, it's not just public perception, take a look a these rather interesting facts, concerning the US Media, from the Media Research Center:
Any questions? Well, that doesn't mean the media can't be objective, one might say, right? Er... well, then what does the Civil Society say, according to Gallup?
Oops! So, if it walks like a duck and it quacks like a duck then it must be a duck, right? Wrong, again. The media, despite all evidence to the contrary, will nominally maintain, with a leering grin, that there is no true bias in the media, at least for the most part.
Go figure....
Lie #5) Obama's economy has been improving  steadily since elected
But then there's the other side of economic coin that we will never see admitted to in the media, because of an absence of bias, correct?
Indeed, check out these particualr facts and then try to remember where you have seen this story before in your local newspaper....and good luck with that trip down empty memory lane....
Not too good!
But the Obama administration will still maintain its base well enough to get reelected, correct? But of course it will, in fact, according to the Huffington Post, all those polls which show Obama incrementally losing ground in the race, are due to the effects of racism within the race, I kid you not.
Lie#6) Anyone who disagrees with Obama is a Racist
In this chart, we actually have a drive-by Huffington reporter trying to make the case that all Gallup polls are skewed to the disadvantage of Obama due to the effects of race, at least, these days they are.
Check this chart out, but please swallow whatever you might be drinking or eating, first: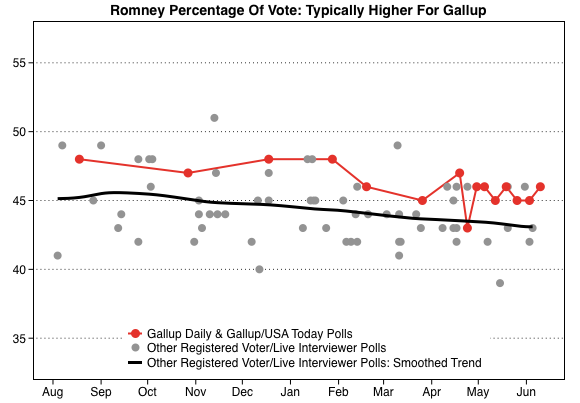 So there you are, the defacto leader in world polling organizations is minimizing Obama's relection chances due to a natural racist component, you just can't make this stuff up. And in that same vein there are these rather lonely facts:
Lie#7) Only crackpots and racists believe Obama's birth certificate is fake
And then we have the media constantly telling us how ridiculous we all are in having the  unforgivable gall to question whether or not Obama was born in the US, while all of the available evidence points to something being seriously amiss.
So, we are told that only a fool and, once again, a racist would think that way. But then, you probably didn't hear about that Gallup poll that came out last year, now did you?
I'm not surprised.  Voila':
Now, before you jump to all sorts of conclusions, just add all the numbers up in the "We Don't Think So" column and be amazed, because this would percentage out to at least 24 million registered voters in the United States who believe that Obama was "definitely or probably" born in another country.
By contrast, there are only about 90,000 registered reporters in the United States, so you tell me, who's in the minority club of being ridiculous?
Lie #8) Global Warming is happening and the sky will soon be falling
In southern North Carolina, one of our most favorite things is to spend copious amounts of time sitting on a large front porch in the evenings, while following the worldy happenings as transmitted from our indoor TV to our outdoor ipad, where a pause by virtue of the DVR is always available in order to effect meaningful discussion of events.
Lately, however, that practice has been laid dormant by the mitigating effects of global warming. Uh-oh! Too hot, you might ask? Heck no, is the answer; it's been queerly cold, almost every single night, so much so, in fact, that the front porch is left abandoned almost nightly and shortly after sunset IN JUNE, for Heaven's sake.
So, what gives?
These days, the Global Warming Cultists will tell you that global warming is actually causing global cooling.  No, indeed, I'm not making this stuff up, it's what's been coming out of the media apparatchiks who find themselves flailing around for possible answers.
So, what's really happening?
Check this chart out:
It's nothing more nor nothing less than what we've been saying from day one, "solar cycles" as the manipulated culprit and heaven forbid another major volcanic eruption occurs, the effects of which tend to always lower mean earth temperatures, sometimes by as much as over one degree.
So, why do we keep hearing about global warming?
It's the machinery, Ladies and Gentlemen; building the world bureacratic machinery took years, and shutting the blasted thing down is much harder than starting it up, despite the fact that it's not rocket science, good grief, it ain't even any form of science, truth be told....
Lie # 9) The sea levels are rising due to, you guessed it, Global Warming
It's almost every day that yet another news story tells us how much the sea levels are rising, since the global warming scenario didn't scare the bejesus out of us enough, so, hmm....what might they say that would spark an alarmed shreik of panic?
We're sinking!
Oh my God, we didn't attach any lifeboats to the front porch, now what to do? Granted, it's a scary argument that affects cities and communities all up and down the coasts, virtually everywhere, which means, by necessity we must double down our pitiful efforts at controlling the climate or else.
But, what if something else is happening that the cultists are stealthily dismissing? Or, are they so religiously fervent in their cause to save the planet, that the end justifies the means?
Hmm...check this chart out:
Talk about the seas rising!
Indeed, it would seem that, not only was North America the size of Africa back 150 million years ago, it was, in fact, Africa.  Wow, must have been some serious global warming going on since that time, so much so, that it washed North America clear across the ocean...Holy smoke, what did the world do without radical Eco-Marxist activists saving everything?
195 million years too far? Ok, how about only 100 million years back, say, during the Cretaceous period?  See the below chart of the US:
All washed up!
Point being, the effects of plate tectonics, climate drift, erosion, solar cycles, these changes have always waxed and waned for hundreds of millions of years, thinking that we Johnny-come-lately's can somehow expansively control our environment would seem to requires an advanced degree of grandiose lunacy, at best.
Lie#10) The World is Running out of Oil
We hear the discussions batted back and forth incessantly, fossil fuels will soon run out, we need alternative energy sources! The Messianic Micro-Manager has spent billions of US dollars chasing etherial solar energy tales that never seem to pan out.
The simple fact is that oil can be found in so many places via so many means of expertise that no one can actually say if we might ever run out of the stuff.  It was recently determined that oil shale, which was found in huge deposits in Wyoming, Utah and Colorado but also in other areas of the world, contains enough oil to power the United States for generations to come to the tune of at least 2.7 trillion barrels.  Scientists today agree that oil actually comes from single-celled microscopic aquatic creatures called diatoms which live by converting solar energy into their own nourishment--that being oil--naturally produced by their bodies.
These tiny creatures have been around for billions of years and--even now-- float around in virtually every aquatic environment known to man.  The oil that we retrieve from their past existence is what fuels our engines of society.  Point being, however, that these diatoms live and then die and then float en mass to the bottom of their environments even now, which, theoretically, means that oil is being produced  even as you finish reading this column.
However, you will probably never read that, nor any of these other facts in any traditional media outlet of today.
So, why do you suppose that is?
Permalink