Bumbling Brothers Burn Em' and Bail-Out Circus: The Greatest Show on Earth
July 5th, 2012
Posted by:
Barry Secrest
Published on July 5th, 2012 @ 08:22:23 am , using 1645 words
Conservative Refocus
By Barry Secrest
It's unofficially official.
The US Government, under the executive management of Obama and his froward Statists, has certifiably morphed into a Big Tent three ring circus ostensibly dedicated to any and every high flying parlor stunt and comedic interlude imaginable, except for the very functions it was founded to perform.
Far-fetched, think you?  Think again. Not only do we have the very recent Supreme Court decision in which a Court whose chief function is to verify that all laws and judgments are Constitutional, state in essence, that they would not overturn a legislative effort which was admitted to be unconstitutional in the very first line of the decision and despite the myriad and well known acts of state sanctioned prostitution in getting the blasted thing passed. But then we also have an executive branch whose chief diversion appears to be circumventing any law with which it glitteringly disagrees, while making up new ones contemporaneously and on the fly.
In the Center ring of Barry's big tent,  we have the Messianic Master of Ceremonies, slick-talking, Spanish-spouting, El Magnifico, MC Barack H. Obama, II, the man known for an exaggerated crease in his trousers who never met a budget cut he actually favored, nor a teleprompter he couldn't fathom. Indeed, and unless that budget cut specifically targets that particular function in which the Government was originally founded to perform in the first place, say defense, or procurement of liberty's blessings, for instance.
A Circus Headache
Conversely, when it comes to frivolous Federal expenditures, Barack the Job Slayer and his colorful choom gang will come out hailing the skyrocketing outlays in effusive triplication, with trumpets blazing and disciples bowing. The President's cultish high priests within the media, ready and fully waiting to gather round and shout down anyone who dissents dutifully emit ad hoc charges of racism, bigotry, sexism and other such derogatory language until the offending party is completely muffled  and totally depleted.
Sated, the raucous clown posse then pile back into their tiny little hybrid clown cars and putter around their massive ring spouting verbal pornography until the next such opportunity presents itself. The crowd of mass attendees, meanwhile, look on in detached amazement.  Mono-chromatically grouped by the Big Tent officials, the crowd sits within its appointed sections as secretly planted functionaries hurl flagrant insults at opposing sections designed to instigate the onlooker's anger;  Pigmentation allotment being the enigmatically conspired and naturally secreted element with regard to the Carnival's most pressing concern.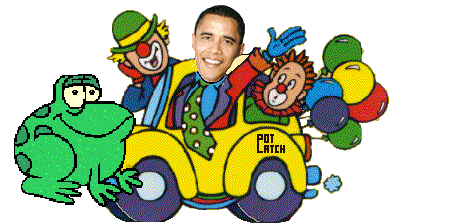 Meanwhile, in an ever increasing panorama of side rings, we have numerous and amazingly never-ending anti-Constitutional tricks being performed on an ad infinitum basis by a troupe of sub-talented and hardly toiling apparatchiks. Their main impetus in keeping the onlookers' gaze locked away from continuously observing the often macabre center ring,  while keeping the tell-tale illusion of reality locked in place, especially whenever a main event scene must be refreshed or swapped, or better sanitized.
Dog and Pony Show
In fact, our circus even has a crackerjack carny who is aptly referred to as Carney; the appointed barker, always available to beguilingly deflect and distract those who repeatedly puzzle after the Circus' current and mystifying itinerary. The most high Jester, affectionately referred to as VP Biden, stands comically aloof yet awkwardly committed, ready to stumble through some hilarious act or mis-utterance which continually amuses the increasingly distracted crowd.
In side ring one, we have the rather goofy Federal functionaries, railing almost comically against the authority consigned to the sub-principles and the ring's despised borders, routinely cutting off a strongly needed appendage here or there, which might anger the lead chancellors for some silly, exaggerated offense, albeit for entertainment's sake, mostly. Ring two features a clownish excuse for the nation's leading Clown-Barrister, performing poorly executed disappearing paper tricks, pensively uttered double entendres, and the intermittent mumbling of ponderously weak excuses, especially if one jurisprudent treachery or another should go particularly awry.
The central theme to this waggish Solicitor's constant antics, seem to center on doing the opposite of what he would routinely be expected to do. In one continually recurring theme, the high-clown tries to extinguish fires by hurling incendiaries onto them. In others, while trying to save hapless victims of crime, the head-droll terminates the victim and then rescues the perpetrator, offering gifts of sublimation, all the while; its all quite hilarious, but only when watched from afar, an unwholesomely bizarre thematic for an eerily unnatural show.
Hornswaggled
Ring three features a troop of partially obscured,  copiously befanged, Nazi-like, deconstructing  entities performing various epics of vandalism and demonic demolition on the very big top supports whose function it is to keep the massive structure from collapsing in upon the vast throng of spectators. This, in fact, adds  a creaky roller coaster-like dimension of both horror and suspense  for those who require regular installments of O-drama in their daily visits to this never-ending spectacle.
Up in the loftiest heights of the tent are our diminutive, high-flying, trapeze artists led by Timmy the "Flying T-Bill" Geithner, a man whose relatively fearless when it comes to the riskiest acts in the big tent. Soaring and flipping around the loft of the big-top, he performs death defying budgetary stunts with grace and elan, adroitly bailing out his high-flying buddies at the edge of numerous aerial disasters, all the while poo-pooing  and dismissing  the residual safety net, which the outside world has graciously provided while threatening to remove it due our performers artistic disdain. Effecting repairs would be synonymous with diluting the excitement and defeating the derring-do, which simply will not do.
Mass Ducat
But, what's the best part of the show, you might ask? Oh, that's quite simple, everything's free.
The condiments, meals, accommodations, unsugary drinks, everything's gratis; no one who shows to watch the performance and be both universally entertained and served need pay for anything. The adulatingly mesmerized and thankful crowd cheer thunderously for the strikingly generous ring-leader, who in fact, largely sees his affectionate onlookers in much the same vein as an exterminator might see a nest of mice or even a vast colony of cockroaches, an eerie love-hate relationship with a portent of ending ignominiously seems historically inevitable as the timeline unfolds.
Oh, he may ask that those who attend to perform some minor act of tithing, for instance, he recently remonstrated his followers to forgo their life event gifts in the form of gift registries etc. in order to refill his personal showman coiffures. Being Master of Ceremonies, you see, requires an extraordinary imagination, while offering little in the way of weekly free time and recompense, but the show must go on,  and go on it does.
The Funambulist
However, in that particular vein, despite seeming as a highly esteemed lavish production, our hornswoggle does have a large series of what we should term..er...deferred payments,  which at some point in the not-to-distant future, are due to be redeemed. And these payments will be indirectly expensed to the the show's attendees with a cost, which while subliminally hidden within the small print of the ticket, bears an enormous compounded  interest rate which will prove nearly impossible to repay.
Indeed, at present, only those who are too busy to attend are the ones actually paying for the massive up-front costs of this big circus show's receipt. Ironically, the ones who fail to participate are the very first in the order of repayment, a rather brilliant method of indirect financing, truth be told.  But While Emcee BO strikes a strident pose in front of his fans and tells them that that everything's peachy. He then proceeds to vilify those  absentees working to finance the entire big event as being unthankful, unpatriotic and even not paying their fair share.
In response to the Ringleaders, the crowd and the disciples boo loudly, some even sojourning far out of their way to heckle, harass and even attack those who are paying, for yet having the gall not to attend the big show and languish in the shadow of their greatest inalienable performer.
So then what are these costs in comparison to the other big shows across the globe?
Glad you asked.
The Geronimo
While we will hear and see those ravenous statist bureaucratic showmen constantly harangue the producers of America, not only that they shouldn't make so much, but also that they should give up far more,  it is these same Statists, themselves, who never, ever seem to hold  their members to even some semblance of fiscal sanity.
Please look closely at the below chart and be amazed :
Top Five Most Populous Countries in Government Tax Revenue compared to population

#

Country

2011
Population

2011 Revenue

1

1,336,718,015

$1.64 Trillion

2

1,189,172,906

$564 Billion

3

313,232,044

$2.1 Trillion

4

245,613,043

$185.4 Billion

5

203,429,773

$464.4 Billion
Do you see the horrendous problems in the above chart?
While the US is collecting over 20% more in revenue from a mere 313 million people than China is collecting,which has a population of four times America's at 1.3 Billion and has a Communist system, for heaven's sake, The statists in America still managed to overspend their 2011 collections by an astounding $1.3 trillion and in what is supposed to be a Free Market system, to boot.
Even worse?
If you add India and China's total revenue collections together, with a total population of over 2.5 billion people which is well over 1/3  the entire world's population, their collections are then roughly equal to the revenue collection of the United States, even with less than 5% of the world's population.
In fact, if you were to add up every single one of all the remaining countries revenue amounts together except for the top five, the total amount collected would not even come close to America's annual tax receipts.
Grifters
But the piece de resistance?
The US deficit spending for 2011 would actually dwarf about 2/3 of the tax revenue collections of the planet's entire population. Indeed and unfortunately for our lavishly paid and highly entertaining circus performers,  America's Greatest Show on earth will soon end its ill-fated season of madness, like it or not.
The thought occurs that perhaps the entire purpose of this big show, that we have been watching,  is nothing more than one grand distraction in and of itself, so that these unfortunate truths can be slathered with a singularly expert carnivalist illusion.
But then again, maybe if we simply replaced these high-end clowns who have been "responsible," with simple, concerned citizens who display functional mathematical comprehension levels, the danger can yet be abated.
But don't bet your ticket on that.
A national political campaign is better than the best circus ever heard of, with a mass baptism and a couple of hangings thrown in~ H. L. Mencken
Permalink