Liberal Media Now Blaming "Obstructive GOP" on Lack of Obamacare Success as Predicted
January 8th, 2014
Posted by:
Barry Secrest
Published on January 8th, 2014 @ 06:39:50 pm , using 590 words
Conservative Refocus
Barry Secrest
It was predicted and it is happening, now.
As the sign-ups in various red and blue states wane, to a panoply of ideological disdain, loyal free market adherence and, of course,  a witches brew formula of ill-portents, the Huffington Post is now blaming  an "obstructive GOP" on the healthcare mandate's universally admitted lack of success.
With catastrophically-styled high deductibles, abysmal network access, and sky-high premiums, many might say that it's well beyond amazing than even 1.1 million Americans have actually signed up.
However, below is the oft-predicted story, which you will see more and more of as the self-parroting media begins to virally spread Obama's latest excuse, aka White House talking points, gone mainstream media wild,  i.e.--it's not the Mandate's fault; it's somehow now the Republican Party's fault:
While Republicans at the national level have thus far been completely unsuccessful in attempts to repeal or defund the Affordable Care Act, Republicans at the state level have succeeded in preventing people from obtaining health coverage under the new law.
Data compiled by Theda Skocpol of Harvard University for the Scholars Strategy Network, a progressive group of academics, illustrates how states' decisions to not create their own health care exchanges or expand Medicaid under the ACA have suppressed enrollment. According to Skocpol's research, the 14 states that are expanding Medicaid and running their own exchanges have seen enrollment in Medicaid and exchanges at around 40 percent of projections. In contrast, in the 23 states that refused to expand Medicaid or cooperate when it comes to an exchange, enrollment percentages are in the single-digits.
Well, what did these progressive eggheads actually expect?
Of course the states that widened eligibility for Medicaid will see an increase over their red state counterparts; however, they will also see a spiraling increase of free medical care costs and an increased lack of service providers.
The story continues:
Under the Affordable Care Act, states can either run their own exchange or have the Department of Health and Human Services run it for them. Alternatively, seven stateshave opted for a federal-state partnership exchange. Many Republican governors wanted no ownership over the Obamacare exchanges and deferred to the federal government. The website of the federal marketplace, HealthCare.gov, has been plagued by a botched rollout with many glitches.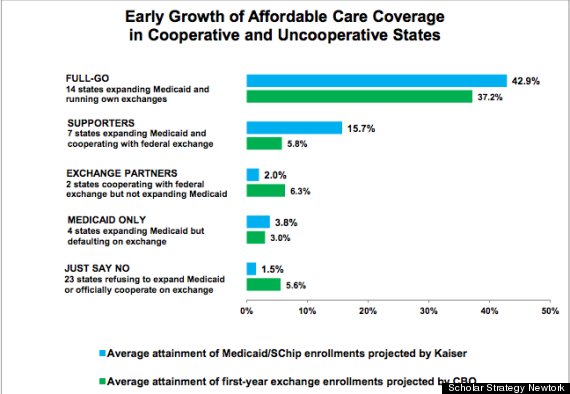 Thanks to the Supreme Court decision that declared the law constitutional, governors are free to decline the federal money to expand Medicaid without losing the federal money they already received to insure low-income people. For reasons similar to why they didn't set up exchanges, many Republican governors decided not to expand Medicaid under the law, despite the fact that the federal government plans to pick up all of the cost for newly eligible enrollees in the first three years and no less than 90 percent permanently.
While community organizers in red states with high populations of uninsured have tried to organize their own campaigns, the data suggests that it takes the power of a state to implement the health care law.
The power of a state? What power might that be?
The Obamacare mandate stripped the states of much of their power--so much so that about half of all states took their case to the Supreme Court and actually won.
However, a poorly planned and executed law, that is both inhumanely forced and supported by only half of those in power, at best, is prophetically doomed to final and ultimate failure, and that' s what we appear to be seeing, even now.
Listen:
Permalink